When Herman Melville was seven years old, his father warned his teachers that he was "very backwards in speech and somewhat slow in comprehension." Luckily for the rest of us, he appears not to have been deterred by this description. A prolific writer of both novels and poetry, he is now among the most renowned authors in the American canon.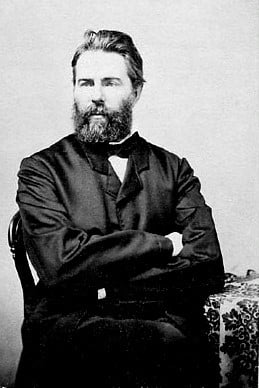 Although he is now most famous for his epic whaling novel, Moby Dick, Melville originally attracted literary attention with his debut novel, Typee (1846). This half-autobiographical, half-fictional tale of life among the native people of the South Pacific remained Melville's most popular book during his lifetime.
Typee is credited with the creation of the "noble savage" stereotype and has become quite controversial among modern readers. Despite its previous popularity, the book is now almost entirely eclipsed by Melville's later works, especially Moby Dick.

Dedicated to Melville's great friend and fellow novelist, Nathaniel Hawthorne, Moby Dick (1851) is widely considered one of the great American novels. It is a sweeping story of revenge written in an unexpectedly comedic style. The book encompasses everything from the nitty gritty of blubber rendering, encyclopedic cataloging of whale varieties, and brief dissertations on subjects ranging from the biblical story of Jonah, disability, cannibalism, and true friendship.

Through the fickleness of fashionable tastes, Melville died relatively unknown. Neither Moby Dick nor Pierre—published a year later—had much commercial success. Melville spent the following four decades alternatively writing for magazines and self-publishing poetry until he finally died in 1891 with his novella Billy Budd unfinished.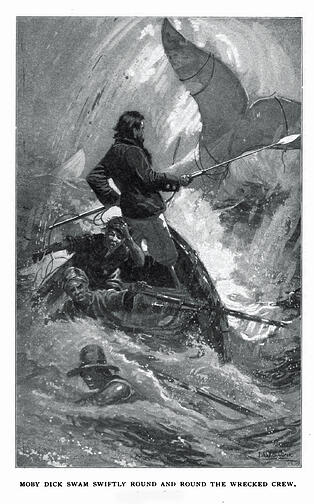 Melville's obituary in The New York Times mourned, "There has died and been buried in this city…a man who is so little known…to the generation now in the vigor of life that only one newspaper contained an obituary account of him…Yet forty years ago the appearance of a new book by Herman Melville was esteemed a literary event, not only throughout his own country, but so far as the English-speaking race extended."

It was not entirely clear—even to the literary critics of his own time—why Melville's writing fell out of favor. Upon his death, The Springfield Republican chastised readers: "It is hard to find a more wonderful book than this Moby Dick, and it ought to be read by this generation, amid whose feeble mental food, furnished by the small realists and fantasts of the day, it would appear as Hercules among the pygmies, or as Moby Dick himself among a school of minnows."

Despite his once-waning popularity, Melville is recognized today as one of the great American writers—a reputation which was in part renewed in the 1920s, with the publication of a new edition of Billy Budd.
Perhaps what readers and book collectors can do to make amends to the man whom past generations seemed to have casually snubbed is pay attention to his great works. Of course, Moby Dick is beloved for good reason, but much of Melville's other work is worthy of our attention. Check out some other titles like the short story "Bartleby, the Scrivener" (1847) or The Encantadas, or Enchanted Isles (1848).