Illustrator Hilary Knight has brought joy to many children through his work. Despite his large collection of work, Eloise, easily his most popular series, tends to overshadow all of his other books. Understandably, the characters and stories in the Eloise books have been loved by many readers, allowing for the lesser known works to be overshadowed. Both original works and collaborations are often glossed over in favor of the incorrigible Eloise. Many of Knight's works outside of Eloise are still well loved and receive high praise from readers. Let's examine some of them today.
The Owl and the Pussy-Cat: Based on the Poem by Edward Lear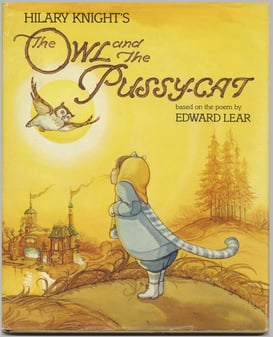 Knight adds illustrations to Lear's poem, bringing new life and energy to the work. No matter how often one opens these pages, details emerge that haven't been examined before, and readers are kept invested with every reading. The additional story Knight adds into the poem through his illustrations provides another level of interest and depth to the classic poem.
A Christmas Stocking Story
When six animal friends mix up their stockings, Santa gives everyone the wrong gift. The friends must work together to trade gifts to make everyone happy. In this book, Knight teaches that Christmas is not about gifts or Santa, but about family and happiness. The animals' solution also shows the importance of sharing, dealing with disappointment, and accepting what one is given.
The Twelve Days of Christmas
Based on the classic carol, the illustrations follow Bedelia Bear as she deals with an excessive number of gifts from Benjamin as he tries to woo her. The supporting characters, especially the raccoon burglar, provide additional plot to the carol. The illustrations bring added interest as readers attempt to figure out what Bedelia will do with all of her gifts.
A Firefly in a Fir Tree: A Carol for Mice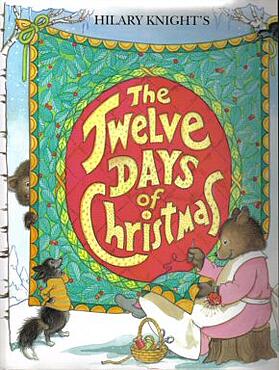 In another rendition of "The Twelve Days of Christmas," Knight uses watercolors to tell the tale of two mice, Maude and Max. Set up as a journal, Mr. Knight follows his work at making the mice he found in his studio a new home. Each day Maude adds her own notations, providing the mice's view.
The Circus is Coming
The colorful illustrations in this book show readers the different aspects of a bigtop circus as it comes to town. From clowns to acrobats to circus animals, all reader will find their favorite circus attraction. Detailed illustrations keep readers of all ages interested and eager to continue reading.
Hilary Knight's Cinderella
In the retelling of this classic tale, Knight uses his illustrations to bring new life to Cinderella. One interesting aspect is the role the illustrations play in how characters are perceived. For example, the good characters, like Cinderella and the Prince, are drawn with soft angles and colors, while bad characters are more harshly drawn. Readers of all ages can be enraptured by the detail and uniqueness of the illustrations.
Where's Wallace?
Wallace, an orangutan, wishes to see the world outside of the zoo, so whenever he is given the chance, he and his animal friends escape. Readers must work together with the zookeeper, Mr. Frumbee, to find the animals in the different places they visit. This cross between an I-Spy book and a traditional children's book will entertain readers of all ages as they try to find Wallace and his friends.
Nina in That Makes Me Mad!
Nina is a child well versed in being mad. Little everyday things upset her, as they upset many children who learn how to express their emotions along with Nina. Knight's illustrations bring life to Steven Kroll's writing while teaching that using words is better for conveying emotions than throwing a fit.
Mrs. Piggle-Wiggle
Knight illustrates Betty MacDonald's popular tale of magical, eccentric Mrs. Piggle-Wiggle as she cures children from maladies like Won't-Put-Away-Toys-itis. The wacky nature of this book appeals to children while still allowing for a lesson to be learned. Adding to the tone of the book, the illustrations provide readers with a timeless way to connect with the beloved characters.
Hilary Knight: Drawn from Life
Set to be released in 2018, Knight's autobiography traces his life from childhood through his work as an illustrator to present day. It promises to have never before seen illustrations and images created by Knight.