If necessity is the mother of invention and diligence the mother of good luck, then the father of Pinocchio was a benefactor of both. Carlo Collodi was a fiery Florentine political activist who wrote The Story of a Puppet begrudgingly as a magazine series. In its original form, La Storia di un Burattino (1881) is a fast-paced, real-world, often cruel tale of the peril and spite of young Pinocchio. Collodi is said to have disliked children and had none of his own; the Pinocchio he originally wrote and the Disney film we are most familiar with are strikingly different.
Children's Literature to Unite a Nation
Collodi got involved with children's tales by accident at a time when literary necessity and political diligence converged in northern Italy. Following the Napoleonic Wars, the country underwent a five-decade struggle for the unification of its splintered states. When the kingdom of Italy was finally established, citizens began their search for a national identity. But that task proved an incredible challenge: people spoke a dozen languages, were over 65% illiterate, and shared no national press or education.
To many intellectuals, the obvious solution was a robust and state-funded universal education system that would teach both Italian values and a common Italian language. But where political passion was plentiful, Italian textbooks and children's literature were nearly nonexistent.
An Unlikely Children's Author
Carlo Collodi spent the majority of his life as a political satirist, activist, and civil servant. He was an Italian soldier during two revolutionary wars and a staunch supporter of a unified, self-governing Italy. He wrote exhaustively about the importance of education, beginning his foray into children's literature by translating a series of French fairy tales for the Ministry of Education. There is debate about his initial attitude toward writing educational material or children's stories himself, but scholars agree that he had no intention of writing 36 chapters about a wooden puppet and a blue-haired fairy. The stories were first published in the juvenile magazine Giornale dei bambini and continued only due to their widespread popularity; they enjoyed huge success when published together as a novel called Le avventure di Pinocchio in 1883.
I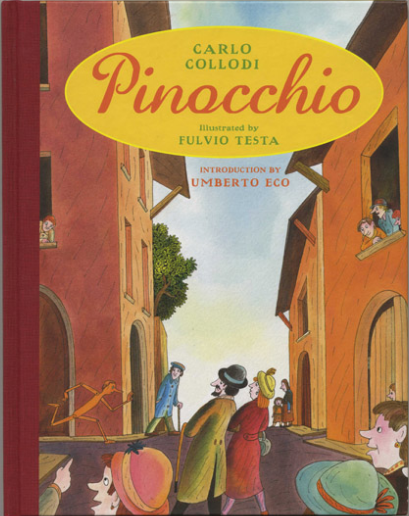 n the 130 years since then, The Adventures of Pinocchio has been translated into over 100 languages and converted to operas, plays, merchandise, and movies-- the most famous of which was Walt Disney's second animated feature film in 1940. Just as the original story was instructive to Italian children and goals, the doe-eyed, sweet story of Disney's Pinocchio suited American sensibilities and values. Their telling could be no further from each other, however, and many a parent may find the depth of Collodi's version even more appealing than Disney's.
Rare book collectors have built entire libraries around editions of Pinocchio. Scholars and critics also remain entranced by the Florentine tale, praising its complex message delivered in simple language and working to explain Catholic imagery and Florentine geography hidden throughout the novel. It's no wonder, then, that even legendary author and semiotician Umberto Eco has contributed an introduction to a 2012 edition illustrated by Fulvio Testa.
Collodi's lifestyle as a womanizer and soldier doesn't lend itself to the image of a children's author, but as Tim Parks puts it, Collodi managed to "tap into the zany spirit of Tuscan humor to deliver a Pinocchio who swings alarmingly between lies and candor, generous sentiment and cruel mockery, good intentions and zero staying power." In the end, he achieved his goal of a unified Italy by capturing the vitality of his people.