Are you thinking about starting a rare book collection? The prospect of establishing a collection of rare books, ephemera, and other print objects can be daunting when you do not have much background knowledge about the subject. Yet we want to emphasize that anyone can create a rare book collection. If you have an interest in rare books and the desire to establish a collection, you're already on your way. We want to give you some important tips concerning the logistics of starting your collection.
What You Need to Get Started With a Rare Book Collection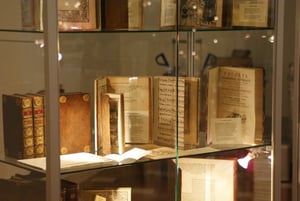 How can you get started as a rare book collector? No great collection was built in a day (or even a month or a year), so you'll want to make sure you're patient and are willing to devote the time and energy necessary to establish a significant collection. You'll also need to have an idea of what you want to collect. There are numerous ways to create a collection of rare books and ephemera.
For a single-author collection, the number of texts that can be added could be defined by the number of novels or books or poetry written by the author. In such a scenario, a collector may be able to complete a collection. With collections defined by subject matter or other categorizing principles, the collection may never be complete—the collector always may be looking for new books and objects to add.
In discussing the role of the collector, Walter Benjamin explains how collectors develop "a relationship to objects that does not emphasize their function, utilitarian value," but rather involves a "locking of individual items within a magic circle in which they are fixed." In other words, the collector defines the parameters for the collection itself and decides which objects belong in conversation with one another within that collection.
Once you've decided how to organize your collection—and which texts you might initially seek out—you'll need to ensure that you have a proper place to store the books, knowledge about how to care for them, and a budget that will allow you to continue building your collection in the months and years to follow.
Book Storage: Where Should You Keep Your Rare Books?
When you establish a rare book collection, you will want to make sure that you have a space to store the books properly. The Library of Congress provides tips for prolonging the life of books and ephemera, including objects that are not made of archival inks or papers (although even items created with archival inks and papers need to be stored properly). First and most importantly, you should store your books in a relatively cool room with about 35 percent humidity. Do not keep rare books in a storage unit that isn't climate controlled, and certainly do not display your books in a basement or attic where you can't properly regulate the temperature.
Speaking of temperature, you'll need to be very careful about sunlight. Although you may want to display your books in such a way that anyone entering your home can see them, or even passersby can catch a glimpse of your collection inside a window, it is essential to avoid exposing your rare books to direct light. This includes sunlight, lamps, and any other intense light sources.
You'll also need to shelve your rare books so that they're well supported. You can store books lying flat, or you can store them standing upright as long as they are supported by books of similar sizes on either side.
We wrote an entire post on rare book storage and rare book care. You can find it here.
Book Care: How to Handle Rare Books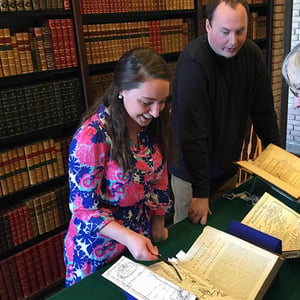 Despite what you might have heard or what you might think, most rare books should not be handled with gloves. Unless there is a potential toxin in the book (such as mold), the current recommendation for handling rare books is to use bare hands that are clean. The Library of Congress explains: "Though clean gloves prevent the transfer of natural skin oils to paper, they make page turning difficult and increase clumsiness. Studies have shown that skin oils can affect how paper ages, but some preservation experts prioritize reducing the physical risk from reduced tactility." In other words, it is more important to avoid damaging the book by clumsily turning its pages with gloved hands than transferring natural skin oils onto the pages. Of course, for rare books or ephemera made of special materials that could sustain significant damage from natural skin oils, gloves may be recommended.
You should also learn more about physically handling the books. It is important to prop up the front and back covers so that your book never lies open at a flat 180 degrees—such handling can damage the spine. You should also avoid using any kind of bookmarks, paper clips, or other objects that are not of archival quality. If you collect ephemera and want to keep certain items together, you'll need to invest in acid-free archival boxes.
If a rare book in your collection does sustain damage, you should get in touch with a book conservator. Don't try to repair a book on your own—using glue or other materials could worsen the damage!
Rare Book Collecting Budget and Financing
Finally, you'll need to set a budget for yourself as you consider the type of collection you want to build. Not all rare book collections have a high market value, and many collections are established with a relatively modest budget—it all depends upon the focus you create for your collection.
To get a sense of the budget you'll need, you should begin by thinking about a few books you'd like to buy to establish your collection. Then, you should see what kinds of prices those books fetch at rare bookstores and at auction. Once you have a sense of the market value of the items you want to purchase, you can determine how much you'll need to spend. If you're on a limited budget, you might set your eye on one particularly rare item you want to add to your collection that may take a few months—or longer!—to find, or you might want to focus on building out your collection with books that sell for slightly lower prices until you have a larger budget to devote to rare book collecting.
The best way to establish a rare book collection is to think about your interests and browse books from booksellers—you're sure to find something that strikes your fancy.