In terms of impact on American culture, Mastering the Art of French Cooking is one of the most influential books written in the last several decades. Published when the United States was immersed in TV dinners and green bean casserole, Julia Child's first and most famous book taught Americans to view food through a lens of pleasure and art rather than convenience. Written in tandem with two French authors, Simone Beck and Louisette Bertholle, it sold over 100,000 copies its first year.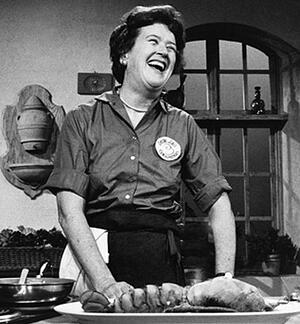 Julia
moved to France in 1948 when the US State Department assigned her husband to Paris. Upon her gradation from Le Cordon Bleu, Julia joined a women's cooking club where she met Simone Beck. Beck and her friend Louisette Bertholle were already immersed in the writing of a French cookbook for Americans. Julia joined their team and together they set out to prove that "anyone can cook in the French manner anywhere, with the right instruction." The three studied and tested recipes for years, Julia translating the French into her engaging English prose.
It took ten years for Mastering the Art to be published, and another nine years for the second volume. Its impact is hard to measure objectively but chefs from Alice Waters of Chez Panisse, to Thomas Keller of The French Laundry, credit her book with changing their relationship to food. The New York Times called it a "masterpiece," and James Beard claimed he "only wish[ed] that he had written it [him]self." Gordon Hamersley of Hamersley's Bistro wrote, "Today 'Julia,' as I call it, remains the book I turn to when I need to know how to do something."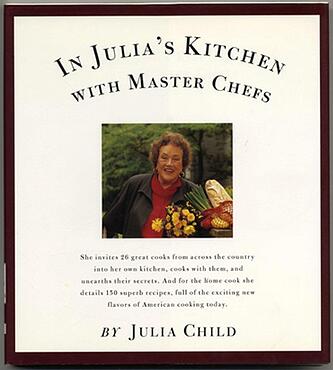 The impact on home cooking was no less profound. Inspiring home cooks everywhere to move beyond creamed onions and pot roast, Julia's book helped simultaneously elevate cooking and make it less intimidating. The recipes were clear, extensively tested, and comprised of ingredients readily available in any American supermarket. The book's unusual two-column layout was a new idea, listing ingredients as they were needed in the recipe rather than at the beginning. Julia wanted the recipes to be very clear and comprehensive without being intimidating to a home cook. She refused to worship at the traditional American alter of convenience and efficiency. Rather she viewed cooking as an activity worthy of your time and intellectual energy. She helped liberate the act of preparing food from the label of drudgery, claiming she "found cooking fascinating because it tested art and science. First you master the science, later comes the art."
Julia published seventeen cookbooks during her career and hosted her Emmy and Peabody award-winning cooking show, The French Chef, for over ten years. It is hard to imagine the culinary landscape of America today without the influence of Julia Child... and who would want to?
Sources: The Washington Post, MS Magazine