Pat Conroy, best known for his novel The Prince of Tides, was born in Atlanta, Georgia in 1945. His father was a Marine Corps fighter pilot, his mother loved books, and the two raised their children in a strict military home. Still, his childhood was tumultuous: the family moved nearly every year to different military bases throughout the South. Life at home was filled with aggression, tension, and hostility, due in most part to Conroy's father. His childhood and educational experiences provided the fodder for some of his most famous works.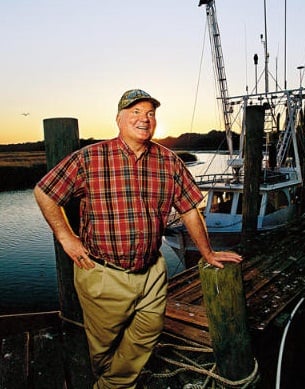 Conroy attended the Citadel - The Military College of South Carolina - where he earned a degree in education. Despite attending a military academy, Conroy had no desire to follow in his father's footsteps. He actually claims never to have seen his own college application. According to him, his father filled it out and he was sent there.
After graduation, he taught English in Beaufort, SC where he met and married Barbara Boiling, a Vietnam War widow with two children. His second teaching position at a small school on Daufuskie Island proved to be his last. He and the school administration did not see eye-to-eye regarding best practices.
Conroy published a memoir about his teaching experiences titled The Water is Wide. It details the racism and injustices faced by his students along with the intense poverty and isolation of the island. The memoir earned Conroy a humanitarian award from the National Education Association and has been adapted to film under the title Conrack starring Jon Voight.
Subsequently, Conroy wrote The Great Santini, a novel in which he exposes his abusive father and conflict-filled childhood. His public unmasking of family secrets led to not only to Conroy's first divorce, but also to that of his parents. In the aftermath of these events, Conroy suffered a breakdown and attempted suicide.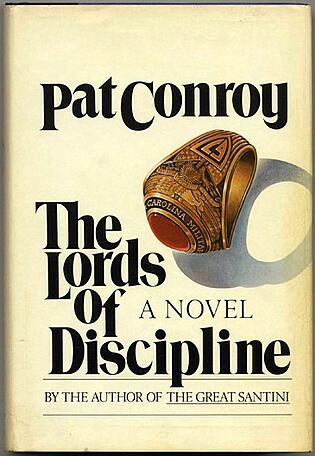 After seeking therapy, Conroy began work on his next novel, The Lords of Discipline. In it, Conroy revealed the Citadel's harsh military politics and the racism that penetrated the school. Despite changing the name of the college in the book, everyone understood his underlying inspiration. In fact, Conroy was blacklisted from the campus for many years. He couldn't visit Charleston without being heckled. The book itself was banned from the Citadel for six years. Decades later, Conroy and the school underwent a reconciliation, and Conroy now holds an honorary doctorate degree from the university. In his 2001 commencement speech at the school, he affirmed his loyalty by proudly proclaiming, "I wear the ring."
Interestingly, the healing process between Conroy and the Citadel came at the urging of his father, who himself underwent a significant change of heart and behavior after reading The Great Santini and watching the book's film adaptation. In 2013, Conroy published a memoir titled The Death of Santini where he chronicled his father's transformation.
Before reconciling with his alma mater and his father, Conroy moved with his second wife to Rome, Italy. There, he worked on what would become his bestselling novel, The Prince of Tides. In it, he writes, "In families there are no crimes beyond forgiveness," which would prove to be quite prophetic. The quality of prose and sheer authenticity of The Prince of Tides cemented Conroy as a master storyteller.
Currently, Pat Conroy lives in Beaufort, SC where he writes manuscripts on yellow legal pads and journals in leather bound journals. He is married to his third wife and fellow novelist, Cassandra King.