Terry McMillan, author of bestselling novels Waiting to Exhale and How Stella Got Her Groove Back, was born October 18, 1951 in Port Huron, Michigan. She was the oldest of her four siblings and after her parents separated, she was left to care for her brother and sisters. Although forced to grow up at an early age, she found solace in her personal retreat: the Port Huron library. There, she fell in love with reading—relishing the works of classic writers including Henry David Thoreau, Nathaniel Hawthorne, and Ralph Waldo Emerson. As much as she enjoyed their writing, she was discouraged that great works of literature seemed produced only by white men. Then, she discovered James Baldwin's Go Tell it on the Mountain (1953).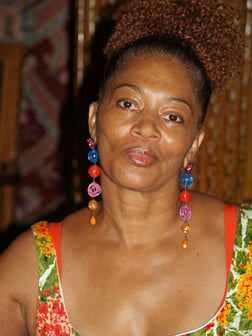 McMillan was a studious girl and acquired a full scholarship to a local community college. She declined, however, and moved to Los Angeles, California instead. There, she attended a community college while working as a clerk at a law firm. Shortly after, she transferred to the University of California Berkeley, where she earned her bachelor's degree. She first began studying social work but, after she attended a class taught by Ishmael Reed, she switched to journalism.
After graduation, McMillan moved to New York City where she worked as a typist for an entertainment law firm. She took various writing assignments for magazines and journals while working on her personal works. She joined the Harlem Writers Guild where she was able to write with serious critique and support in addition to being able to apply for writing grants. The workshops she attended at the Guild helped her write the draft of her first novel, Mama (1987).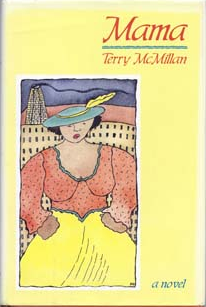 Once completed, McMillan was encouraged to enter the story into a publishing contest held by Doubleday. This was a turning point for the young writer. In addition to having her novel published, she became acquainted with Molly Friedrich who became her agent for over twenty years. Despite winning the contest, McMillan's book didn't receive advertising from the publishers since they believed the book would appeal only to a limited demographic.
McMillan took it upon herself to market the novel, writing letters and arranging her own book tour. Her dedication payed off as the first printing soon sold out, requiring a second. In 1992, McMillan's groundbreaking novel Waiting to Exhale demonstrated again the extent of her readership. By 1997, over 700,000 hardback and three million paperback copies of the novel had been sold. Additionally, the paperback rights were one of the most expensive ever sold, totaling at $2.64 million.
In the heart of her literary success, McMillian was faced with devastating news as well. The death of her mother and best friend left her distraught for years. In attempts to clear her head, she planned a trip to Jamaica, where she would meet her future husband Jonathan Plummer and find the inspiration for her next cutting-edge novel, How Stella Got Her Groove Back (1996). Her marriage did not last, but her success never faltered as she continued to write and publish both fiction and nonfiction works inspiring audiences everywhere.
Both Waiting to Exhale and How Stella Got Her Groove Back were successfully adapted to film. Waiting to Exhale was praised by the Los Angeles Times for its all-black cast, calling it a "social phenomenon." Directed by Forest Whitaker and starring Whitney Houston and Angela Bassett, the film grossed over $80 million worldwide.
Source here. Image source used under C.C. 3.0.
Portions of this post previously appeared on our blog.