Whether you have your own rare book collection and have questions about the overall market value of the items, or you recently inherited some older books or purchased a book that seems like it might be valuable at a flea market, you're probably trying to figure out how to determine that book's value. When you're hoping to figure out how much a book is worth, it's important to distinguish between market value and other forms of value. To be sure, a book may be considered rare or valuable to a particular person, but it may not necessarily have significant market value. We're assuming that you're trying to find the market value of a rare book, so we'll tell you about some options and issues to consider.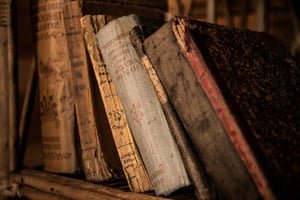 Current Market and Auctions Histories
The first place to look when you're trying to find the market value of a rare book is in the current market. Are any other copies of the book selling through online marketplaces like AbeBooks, or has the book shown up in any recent rare book auctions through places like Sotheby's? Current market prices are usually best determined by recent sales and auction prices. You may need to do a bit of searching to find an example of the book you're trying to value depending on its rarity, and you should keep in mind that the hammer price from an auction that took place even five years ago might not reflect the current market value of the book. To search some auction records, you'll need to sign up for services that could cost a small amount of money up front.
Recognizing that the Rare Book Market Fluctuates
Speaking of hammer prices from auctions, when you do start searching for examples of recent sales, it's important to remember that the rare book market—like other markets—fluctuates. While the market value of some items will remain relatively consistent over a long period of time, other objects can jump or drop in value relatively quickly in even just a few years' time. For example, sometimes a certain writer or artist will become "hot" on the market for one reason or another, and over a year or two, prices for that person's work might surge. But those prices might not reflect the present market value. And of course, the opposite can be true, as well. You could own a book by a writer whose works are currently selling for very high prices, but auctions from a year ago may not reflect that—those prices could be much lower than what your book could currently fetch at auction.
Hiring an Appraiser
If you can't find enough information about your book in current online marketplaces or from recent auction news, you could consider hiring an appraiser. A rare book appraiser should have specific knowledge of the market and experience providing estimates for works that are similar to yours. Some rare book appraisers work broadly and may be able to provide an estimate for objects that range widely in terms of their date and geographic spot of production. Other appraisers could be much more specialized, focusing on a particular type of rare book.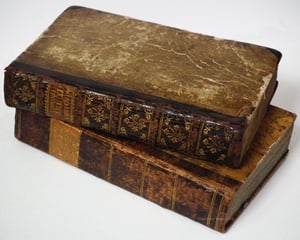 Contacting a Local Rare Bookseller
Where can you find an appraiser who would be best for providing you with a valuation of your book? A local rare bookseller may be able to help. In some cases, if you're not trying to sell the book but are hoping to get an appraisal for insurance purposes (more on this later), a rare bookseller in your area may be able to do the appraisal for you. Of course, there are ethical issues to consider—a rare bookseller shouldn't offer an appraisal or valuation if you're also trying to ask them to buy the book from you for resale purposes. Keep in mind that an appraisal is different from asking the bookseller to buy your book from you. If you simply want to sell the book, you can certainly bring it to a local bookseller who could be interested and ask what they'll give you for it. They should offer a fair price based on what they believe they can resell the book for.
Condition Issues with the Book
Condition matters. Even if you do find another example of the book you own for sale through an online marketplace or in auction records, you'll want to know whether the books were in similar condition. If your book is in better condition, it will have a higher market value. If your book is in worse condition, it will have a lower market value.
Insurance Valuation or Sale Valuation?
Finally, the current market value of a book may differ if you're seeking a valuation or an appraisal for insurance purposes versus an estimate of what the book would likely fetch, today, at auction. Insurance valuations take into account what it would cost to replace the book and may be higher than the current estimated market value of the item.
When you're trying to find the market value of a rare book, the ease with which you'll be able to do this will depend in part upon how rare the book is and whether any copies of it have sold recently. Yet even if you can't locate similar copies that have sold recently through online marketplaces or at auction, a specialized rare book appraiser might be able to provide you with the information you're seeking. Of course, every now and then, a rare book comes up for sale that nobody in the present knew existed until a lot of research gets done. So take your time, consider multiple sources, and know your goal in seeking a valuation of the book.