Since its inception in 1897, Doubleday has been a powerful presence in the American publishing landscape. Collectors often encounter books from the publishing house, so it's useful to know a bit about Doubleday's history and how to identify its first editions.
An Early Start in Publishing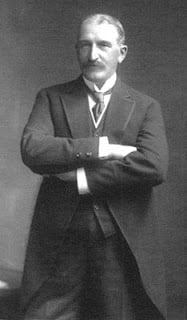 Brooklyn native Frank Nelson Doubleday developed a love for publishing at an early age. By the time he was ten years old, he had already saved up money to purchase his own printing press. To recoup the cost, Doubleday sold advertisement space in the news circulars he printed.
Doubleday's father was a hatter, and when his business failed, Doubleday was forced to leave school and find a job. He was only fourteen years old. Doubleday's love for publishing led him to Charles Scribner's Sons, where he started out making $3 per week. Eighteen years later, Doubleday was still there, working as the publisher of Scribner's Magazine and as head of the subscription book division.
But by 1897, Doubleday's relationship with Charles Scribner's Sons had headed south, and he was ready for a change. He partnered with magazine publisher Samuel McClure to start the Doubleday and McClure Company. The following year, at the urging of banker John Pierpont Morgan, Doubleday and McClure accepted a contract to manage Harper and Brothers. Doubleday immediately delved into the company's records, only to find its finances in shambles. Between the Panic of 1893 and the extension of copyright law to foreign authors (legislation that Charles Dickens had fought so hard for!), Harper and Brother's was struggling. Ultimately, Doubleday, McClure, and Morgan decided to call the deal off.
New Leadership for a New Era
That failed business venture and other issues had put significant strain on the relationship between Doubleday and McClure. Thus, on December 31, 1899, the two dissolved their partnership. Doubleday invited Walter Hines Page, of The Atlantic Monthly, to join him and changed the firm's name to Doubleday, Page and Company. Page would remain with the organization until 1916, when he was named US Ambassador to Great Britain.
In 1921, British publisher William Heinemann passed away unexpectedly without leaving an heir. Doubleday bought a controlling interest in his publishing business, knowing that it would be advantageous to expand his influence to the British publishing world. Ever the anglophile, Doubleday developed close friendships with a number of prominent authors and publishers, most notably Rudyard Kipling, whose The Day's Work was one of Doubleday's first bestsellers. It was Kipling who gave Doubleday his nickname, "Effendi," from his initials, "FND." Doubleday would also become close with Mark Twain, James Barrie, Alfred Harcourt, and others. After meeting John D Rockafeller, Doubleday was asked to contribute to the magnate's autobiography, though it's not certain whether he ghostwrote the book or merely edited it.
Becoming a Giant in Modern Publishing
Doubleday, Page and Company merged with the George H Doran Company in 1927. They became Doubleday, Doran and Company--and the largest publishing house in the English-speaking world. Almost twenty years later, in 1946, the firm became Doubleday and Company. Nelson Doubleday stepped aside as president and CEO, but he remained Chairman of the Board until he died in January, 1949.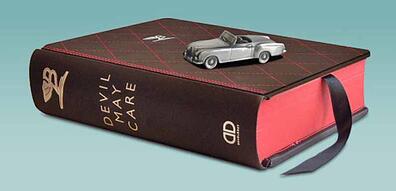 Doubleday published the Limited Bentley Edition of Sebastian Faulks' Devil May Care
In 1986, Doubleday, Duran and Company was sold to Bertelsmann. Two years later, it became part of Bantam Doubleday Dell Publishing House. In 1998, it became a division of Random House. Then at the end of 2008, Doubleday merged with the Knopf Publishing Group, to form the Doubleday Knopf Publishing Group.
Identifying Doubleday First Editions
Doubleday has issued the following statements regarding the identification of its first editions:
1927-2000: The words "first edition" appear underneath the copyright notice, which can be found on the back of the title page. The year when the publishing house began to follow this convention is unknown.
2001: Following Doubleday's merger with Random House, the previous convention still applies, with one exception. The printline is included on the first print as well. Subsequent printings omit "first edition" and include an updated print line.
Doubleday (United Kingdom)
According to their 2001 statement, the publishing house follows the convention of Transworld Publishers, Ltd (United Kingdom): the lowest number in the number line indicates the printing. That practice applies to all the publishing house's imprints, such as Bantam, Black Swan, Corgi, and Doubleday.
Doubleday (Australia)
In 2000, Transworld Publishers merged with Random House Australia Pty Ltd, but retained two separate publishing divisions. Both essentially state the year when a title is initially published and subsequent editions. Both divisions also indicate impressions with a printline at the bottom of the copyright page (numbers 10 through 1). The smallest number is deleted with each reprint.