On January 4, 1785, Jacob Grimm was born in Hesse-Kassel. Though he was both a mythologist and a philologist, he's remembered best as one half of the Brothers Grimm. The brothers traveled around collecting and recording folktales, which have been translated countless times and adapted into some of today's most beloved children's stories. But these adaptations often bear little resemblance to their roots, which are, indeed, quite grim (pun entirely intended...) These tales express fundamental ideas and reactions to the human experience, including hopes and joys, fears and sorrows, cruelty and harshness often censured by parents of today's children.
Jacob and Wilhelm Grimm began their project at a time when romanticism was on the rise and popular interest in folk stories had been revived. Their goal to preserve the folk tales of their generation and generations past. Because of the very nature of the stories' oral tradition, they had incredible mutability; natural fluctuation and versions varied from region to region and reflected old religions and faiths.
The most popular tales of Grimm's include stories of kings, magic, talking animals and enchantment but also contain an often scary and instinctual portrait of raw humanity evident in those early traditional stories. Imagine reading the following original Grimm's Fairytale to your child...
The original version of "Hansel and Gretel" is about a poor family that find themselves unable to feed their brood. The villainous step-mother plots to leave the two children in the forest abandoned, so that they would be rid of the burden of feeding them. The father protests, "I will not do that; how can I bear to leave my children alone in the forest?" The children, unable to sleep due to hunger pangs, overhear the plot and plan to drop stones to follow their way back home from the forest.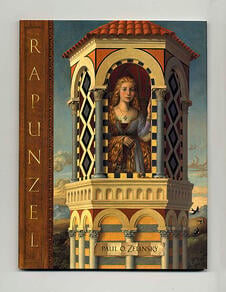 They repeat their effort again with bread crumbs, only to have their trail eaten by birds. They eventually meet a peasant woman who lives in a mystical house of cakes and candy. The feeble woman turns out to be a wicked witch who had built her house to entice children into a trap where they would be fattened for eating. Abandonment! Child imprisonment! Murder! Cannibalism! Surely, these aren't children's stories, but horror stories to be told around a Halloween campfire.
Disney's movie adaptation of Rapunzel, "Tangled,"depicts the heroine as a brave, beautiful, and cartoonish young woman who finds a happy ending with her prince. But in the original version, the heroine is a poor child who's been traded for food by her own father. Rapunzel is shut into a tower by an enchantress to be separated from the world. In the original tale, "Rapunzel is punished by being taken into a desert where she had to live in great grief and misery," something obviously left out of today's Disney version. Perhaps the best modern book adaptation of Rapunzel is the 1997 edition from Paul O Zelinsky, who won the 1998 Caldecott Medal. The book is beautifully illustrated, evoking the delicate sadness of the tragic heroine.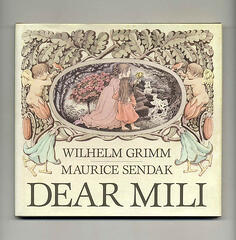 The original tales were so gloomy and often ghastly, that the brothers added a cautionary introduction with advice that parents should steer their children towards age-appropriate stories. The tales written by the brothers Grimm were didactic and pedagogic in nature and went along with a time in history where discipline relied on fear.
If you're not faint of heart, National Geographic offers twelve original translations of Grimm's fairy tales online. You may also enjoy Wilhelm Grimm's Dear Mili, which was preserved in a letter Grimm wrote to a little girl in 1816. It recounts the tale of a woman who sends her daughter into the woods to save her from the perils and violence of a terrible war. The edition illustrated by Maurice Sendak is particularly poignant and is a favorite among collectors of children's books.
It is important, perhaps, to remember the distinction between the difficult lives of the audience of the first edition's stories to today's children, who can watch cartoons and stories unfold under a protected umbrella of "parental controls" on television. Life during the time of Grimm's Fairy Tales' birth was tougher, more primal, and also told from stories carried on for multiple generations of harsh and meager living.