Ian Fleming began writing the ninth James Bond novel, Thunderball, in January of 1961 from his Jamaican home, Goldeneye Estate. His health was failing due to heart disease, and he was feeling burned out on Bond. So, for inspiration, he turned to a James Bond screenplay he'd worked on in 1958 in collaboration with Kevin McClory, Jack Whittingham, and Ivar Bryce. When Thunderball was published in March of 1961, Fleming failed to credit his collaborators for the part they'd played in the creation of the novel and found himself at the center of a SMERSH-sized lawsuit for plagiarism.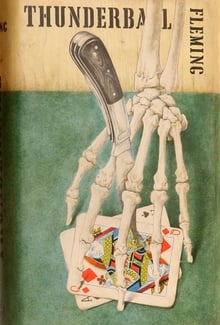 Robert Sellers wrote a book about the court case titled The Battle for Bond. In it, Fleming's friend and fellow spy novelist, Len Deighton said, "The seemingly endless legal battles that Kevin McClory waged against the James Bond producers split the film world, and the publishing world, into two camps. Bitter arguments, unscrupulous bids for credits and recognition, as well as buckets of money, poisoned lifelong friendships and fostered strange and unlikely alliances." The "Thunderball Case," as it would come to be called, was only the first in a series of Bond legal battles that would stretch into the early 2000s.
It all began with Ivar Bryce, a wealthy Englishman and close friend of Ian Fleming, who had partnered with screenwriter, producer, and director, Kevin McClory to form Xanadu Productions. Bryce encouraged McClory to read the James Bond novels with an eye towards making them into movies. McClory didn't think the novels would translate well onto the screen, but he saw enormous potential in the character of James Bond. McClory brought playwright and screenwriter Jack Whittingham on board, and in 1958, Fleming, McClory, Bryce, and Whittingham began to adapt James Bond to fit the silver screen in the form of an original screenplay. However, the project fell apart in 1959 when McClory's film, The Boy and the Bridge -- the first film he wrote, produced and directed himself -- tanked at the box office. McClory had intended to use profits from The Boy and the Bridge to finance half of the new James Bond movie. McClory's box office failure and lack of funding made Bryce and Fleming nervous about the way he was handling the new Bond screenplay, and the two abandoned the project.
In 1961, when he
found out that Fleming was publishing Thunderball as a novel, Kevin McClory tried to bring legal action against Thunderball's publisher, Jonathan Cape, in an attempt to keep the book from being published without crediting him for his work. However, the case was thrown out because the defense hadn't been given enough time to prepare a case, and publication was already well underway. So, in 1963 McClory and Whittingham sued Fleming for plagiarism, although, Whittingham soon had to drop out of the suit due to financial strain and health problems. The trial took place at the High Court in London in November 1963 and was highly publicized by the media. It lasted for nine days, and in the end, McClory and Fleming decided to settle. McClory was awarded £35,000 plus court costs, as well as the film and television rights to Thunderball. In addition, the court ordered that McClory be acknowledged as a co-author in all future publications of the novel Thunderball.
During the trial, Fleming had two heart attacks which significantly weakened his health. On August 12, 1964, he suffered a third and fatal heart attack. He died at the age of 56.
The movie version of Thunderball came out in December of 1965 and stared Sean Connery as Bond. It was co-produced by Harry Saltzman and Albert R. Broccoli with McClory also billed as a producer. It earned $141.2 million at the box office. In 1983, McClory did a remake of Thunderball, which he titled, Never Say Never Again. It also stared Sean Connery. McClory would be involved in numerous legal battles over James Bond movie rights up until 2001. He died on November 20, 2006, exactly 43 years after the Thunderball Court Case.