Legendary author John Steinbeck was a literary mastermind. He wrote prolifically throughout the 20th century, and his work and the themes he presents still resonate today. Of Mice and Men, his 1937 novella, does what all brilliant pieces of literature are wont to do. It gives us characters and situations that make us think and feel deeply. As such, the work has been subject to both high praise and a substantial amount of criticism. But it's safe to say that Of Mice and Men will continue to be widely read, discussed, and appreciated. For a Steinbeck collector, it's a must-have. Here, we've compiled several interesting editions and options for those looking to add Of Mice and Men to their shelves.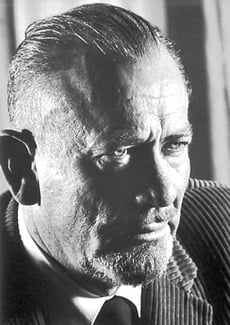 For those looking to really delve into collecting Steinbeck, we'd highly recommend the Tetsumaro Hayashi bibliography or the Goldstone & Payne bibliography, which we used as reference for what follows.
First Edition
The first edition of Of Mice and Men is a logical place to start. Published in 1937 by Covici Friede publishing house in New York City, the first edition was bound in the publisher's beige cloth with a black and terra cotta stamp that includes the title and author's name on the front cover and the spine. Only 2,500 copies were printed. First edition points include what appears to be a bullet point between the numbers 8 and 8 on page number 88 and the word "pendula" at the end of the sentence that reads, "...and only moved because the heavy hands were pendula" at the bottom of page 9. This bit was removed in later printings due to its disjointed nature. As a result, the whole page was reconfigured. So be sure to take a close look at page 9 to verify a true first edition.
Likewise, the first edition dust jacket lists the original price of the book, $2.00, on the front flap. The dust jacket lists the title in navy blue in the forefront of an image of one larger and one smaller man in the middle of the page, flanked by trees. At the bottom of the dust jacket, a notation reads, "a novel by John Steinbeck author of 'Tortilla Flat'". The colors used are orange, green, and blue. Look for these colors to be vibrant, without fading, if you're paying a premium for a first edition copy. In fact, depending on the book's condition and that of the dust jacket, true Of Mice and Men first editions can cost anywhere from $25,000 down to a couple thousand dollars. Other factors that can impact price include whether or not the book is signed or an association copy. Copies with Steinbeck's signature and/or an inscription are often sold for a higher sum. Understand, too, that a second printing of Of Mice and Men was completed by Covici Friede in 1937, a mere 20 days after the first issue. Again, checking page 9 is a surefire way to know what edition/printing you're dealing with.
First British Edition
The first British edition of Of Mice and Men was also published in 1937, in this case by William Heinemann in London. A blue dust jacket with a picture was designed and illustrated for this edition by Michael Rothenstein and printed in black and pink ink. The original has pink end papers, as well. An intact dust jacket adds immense value to this collectible. For a truly noteworthy copy, look for dust jackets that also include a yellow, wrap-around band detailing that 137,000 copies of the book were sold in the U.S. and stating the different areas where translations had already appeared: France, Germany, Italy, Hungary, Norway, Sweden, and Denmark. The wrap-around also quotes James Agate from the Daily Express in reviewing the book: "I am satisfied that Mr. Steinbeck's story is one of maximum power and pity, told with economy and imbued with a deep sense of beauty…"
Of course, one can be on the lookout for signed copies of the first U.K. edition of this text. They will pop up in the marketplace on occasion. Association copies also make fine additions to one's collection. Such a book—with the yellow wrap around band—can cost close to $10,000. Other copies of the first British edition sans the band are less expensive (typically a couple thousand dollars, or less), though still admirable collectibles.
"A Play in Three Acts" Format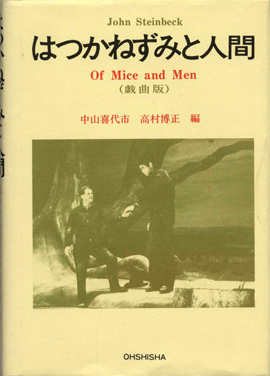 Steinbeck also used Of Mice and Men as one of his first attempts to dabble in playwriting. He wrote a version as such, and the first edition was published by Covici Friede in 1937 as Of Mice and Men, A Play in Three Acts. Steinbeck's goal for this publication was realized and the play—directed by George S. Kaufman and starring Broderick Crawford as Lennie and Wallace Ford as George—premiered on Broadway beginning in November of 1937.
Copies of the play are available for around $3,000 if in fine or near fine condition with a like dust jacket. It's bound in beige/oatmeal colored cloth. The spine of this book is subject to toning. For less well-kept copies of the book—beyond just the predictable effects of aging and including rips to the dust jacket or instances of severe sunning—a collector can pay just under $1,000.
Collectors can also look for first edition translations of Of Mice and Men: A Play in Three Acts. For instance, the first Japanese edition was published by Ohshisha in 1993. Bound in the publishers cloth, this sort of first edition copy is very scarce, especially if you can get your hands on an association copy or one with an inscription from either of the editors, Kiyoshi Nakayama and Hiromasa Takamura. Such a book costs around $500.
Centennial Boxed Set
For a more modest budget, we'd highly recommend the Steinbeck Centennial Boxed Set. In 2002, the 100th anniversary of the legendary author's birth year, Penguin published a collection on Steinbeck's greatest works. The set includes The Grapes of Wrath, Of Mice and Men, East of Eden, The Pearl, Cannery Row, and Travels with Charley: In Search of America. The works are all the deluxe trade paperback editions with French flaps, and the set costs right around $100. Penguin, along with the Steinbeck Foundation and the Great Books Foundation put on numerous events in 2002. Ephemera from any of those outings would also be unique additions to one's collection.
Scripts and Ephemera from Adapations
For a collector interested in movie-tie ins, Of Mice and Men offers numerous options. Not only was the book made into a play and performed almost immediately upon publication, but several other adaptations have followed including the 1939 Oscar nominated film starring Lon Chaney Jr. as Lennie and Burgess Meredith as George. Another film was made in 1992. This theatrical film was directed by Gary Sinese who also played George. John Malkovich was cast as Lennie. Anything related to these cinematic productions—or other Of Mice and Men performances—would fit nicely into an Of Mice and Men collection.
Valuable collectibles can also come in the form of radio scripts, particularly the script used by The Theatre Guild for its 1949 performance. This script was adapted from Steinbeck's story by Robert Anderson. The play was broadcast on-air on May 8, 1949 and very few copies of the script, printed on its original Theatre Guild "on air" paper, exist. True copies can cost between $2,000-$4,000. A more recent BBC radio broadcast aired in on March 7, 2010.