Kenneth Grahame's The Wind in the Willows has long been considered a classic; however, the author initially had a difficult time finding someone to publish the children's novel. Indeed, had it not been for Theodore Roosevelt—who wrote Grahame and said he had read it over and over again—encouraging the Scribner publishing house to give the book a chance, we may not have had the pleasure of acquainting ourselves with Mole, Toad, and company. Instead, The Wind in the Willows is a recognizable title to nearly everyone, and recently a first edition copy of the book owned by the daughter of the man thought to inspire Ratty sold for £32,400. That's over $48,500. Here's a look at other interesting editions of The Wind and the Willows.
As mentioned above, the first edition of The Wind and the Willows was published in 1908 by Scribner and Sons in New York and Methuen and Co. in London. First edition copies without any sort of association sell for around $10,000, depending upon their condition. Lacking from the first edition, however, are illustrations. But since its original publication, numerous well-known illustrators have tried their hand at decorating the classic with depictions of the stories within.

The E.H. Shepard illustrated edition was published in 1931 in a limited print run of 200 copies signed by both Kenneth Grahame and E.H. Shepard. Kenneth Grahame is thought to have approved Shepard's illustrations before his death, making this edition highly sought after by collectors. This edition includes illustrations throughout the text as well as a map of toad hill that folds out from the back of the book. Published by Methuen and Co. in London and printed on handmade paper, the limited E.H. Shepard edition is very rare and can fetch a sum of close to $20,000 for books in fine or near fine condition with a similarly preserved dust jacket.

If you're really looking to build up either a Wind in the Willows collection or an E.H. Shepard collection, you may also find that sketches of the drawings used in the book come in and out of the marketplace on occasion. Original drawings are worth over $10,000, so this is not an inexpensive additional piece but rather a prime collectible in and of itself.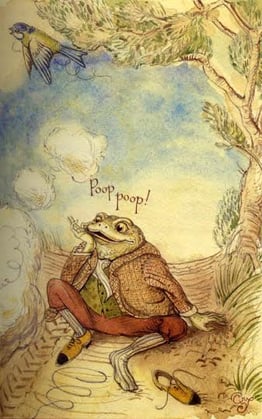 Another illustrated edition of The Wind in the Willows that bears note is that which includes Charles Van Sandwyk's illustrations. One edition with Charles Van Sandwyk's illustrations was published by the Folio Society in 2008 to commemorate 100 years since the first edition. The print run of this edition was limited to 1,000 copies. The 2008 edition has a copperplate etching at the front. Charles Van Sandwyk's illustrations are beautiful and add a whimsy all their own to the tales. They also draw on influences from previous illustrators like Shepard. These centenary editions are valuable collectibles and can cost in the $2,000-$3,000 range. Other editions with Charles Van Sandwyk illustrations include a 2005 edition which follows the original text of Methuen and Co. edition published in 1908. This 2005 edition was also published by the Folio Society. A limited number of signed copies of the 2005 edition are also available and can cost between $1,000-$2,000.

We'd be remiss if we didn't mention the Arthur Rackham illustrated edition of The Wind in the Willows which was published in 1940 by the Limited Editions Club in New York. This American edition, with gilt decoration on the cover and spine and top edge gilt was limited to 2,020 copies. Copies can cost a collector a couple thousand dollars, depending on their condition.
The first English edition to include Arthur Rackham's illustrations didn't come until 1951 and was published by Methuen and Co. This edition was limited to 500 copies and includes 12 color illustrations from Rackham with an introduction from A.A. Milne, of Winnie-the-Pooh fame.

Finally, if you're looking for a more affordable but still quality edition of The Wind in the Willows, check out the Barnes and Nobel Classics edition, first published in 2005. The Barnes and Nobel Classics series provides other resources within each text including biographical and historical information which add to the reader experience.