It's no easy feat to top yourself at age 80. But this is exactly what Annie Proulx did last year with the release of her latest book, Barkskins. The novel tells a multigenerational tale, beginning with two pioneers in New France and the natural environment that supports them, which grows diminished and defaced with time. Even more staggering was the novel's reception: reviewers called it "the masterpiece Proulx was meant to write," and "perhaps the greatest environmental novel of all time." With each passing book, Proulx proves herself to be an indispensable voice in American letters.
Below, we've collected a few facts about the still-thriving author for newcomers and old fans to enjoy.
1. She Regrets Writing Her Most Famous Work
However superior her other work may be, it is unlikely any of Proulx's stories will outshine in the popular imagination her most famous: "Brokeback Mountain." Published in 1997, her short story about a homosexual cowboy romance became a much-discussed topic following its 2005 movie adaptation. With all the hubbub, including fatuous national coverage and a wave of fan fiction, Proulx now regrets writing "Brokeback Mountain" in the first place. "So many people have completely misunderstood the story," Proulx told The Paris Review in 2009, and have made a constant habit of telling the author what she did wrong and should have changed, like the story's lack of a happy ending.
2. She Recently Left The Country
For 20 years, the Connecticut-born Proulx lived alone in Wyoming, where there was an abundance of nature and a sparing population density. Proulx immortalized the Wyoming landscape in over a dozen short stories, "Brokeback Mountain" included, preferring the true rural environment to even the New England countryside, whose identity is inextricable from nearby cities. But that period of driving 200 miles for a doctor's appointment is behind her, as Proulx has since moved to a commuter suburb outside of Seattle where the elements are a little more civilized. Still, a move back to rural New England, where there are fewer allergens, may be in the immediate future, she explained to the Telegraph last year.
3. She Has Held More Than a Lifetime's Worth of Jobs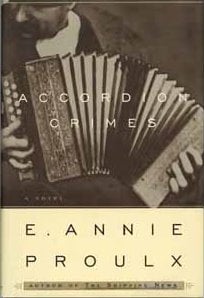 Though Proulx wrote her first story at age 10 and began selling them to magazines in her 20s, her original plan was to be a professor of history. The aspect of status-seeking and politics didn't suit her, however, and she endured hard years with little money raising her three sons on her own. To get by, she worked in Vermont for a local newspaper, as well as in restaurants and in the post office. She also took to writing whenever she could, and was a prolific writer of service and practical literature, advising readers how to fly fish, build a fence, grow vegetables, make cider, canoe, construct a house, and more.
4. Her Success Came Late
Writing fiction under the stresses of family and finances is extremely difficult. Annie Proulx came out with her first work of fiction, a collection of short stories titled Heart Songs, at the age of 53. Her publisher had her under contract for a second project, a novel, which became Postcards, which went on to win the PEN/Faulkner for the year's best debut novel from an American. In 1993, she released The Shipping News, winning her the Pulitzer and making way for an adaptation starring Kevin Spacey and Julianne Moore. We've written before about Proulx's wariness of awards and about her personal favorite work. You can find that article here. In short, Proulx's success came late and is well-earned, and it is her readers' gain that now she has the opportunity to write exactly what she wants.