The Albert and Shirley Small Special Collections Library at the University of Virginia has a fantastic dust jacket collection. We had the chance to talk with David Whitesell, a curator in the Special Collections library and faculty member at Rare Book School, about some of the many dust jackets the university owns and the significance of these items.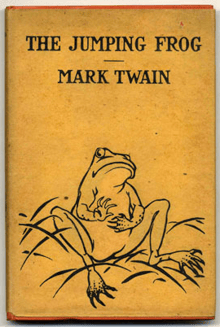 Books Tell You Why: Could you briefly describe the rare dust jackets that are in the library's holdings?
David Whitesell: We're fortunate to have one of the world's great collections of American literature — printed and manuscript — hence by default we also have a large and important holding of dust jackets for both major and minor authors. Two gift collections form the core of our American literature collection: the Clifton Waller Barrett Library of American Literature and the Lilian Gary Taylor Collection of American Best-Sellers. Supplementing these are the William Faulkner Collection, the John Henry Ingram Collection of Edgar Allan Poe, the Marvin Tatum Collection of later 20th century poetry and prose, important collections in 20th century American book design such as the library of book (and dust jacket) designer Warren Chappell, and many others. Barrett and Taylor were collecting at a time — the mid-20th century — when acquiring copies in dust jacket was not quite the collecting priority that it is today, so we do have some gaps to fill. And of course we have extensive holdings of non-literary imprints in dust jacket as well — perhaps of less interest to the collector but, we trust, of future interest to historians of the book and of graphic design.
Books Tell You Why: What are some of the rarest items in the collection?
David Whitesell: Readers may think first of F. Scott Fitzgerald's The Great Gatsby so, yes, we have a nice example of the first issue dust jacket. It would be hard to top our Faulkner holdings, and we have multiple copies of Faulkner firsts in dust jacket. And yes, we have Harper Lee's To Kill a Mockingbird in dust jacket as well.
Books Tell You Why: How many items are in the collection, and what is the time-period range?
David Whitesell: I don't believe that we've ever had the courage to count! But the 20th century holdings number well into the thousands, especially when non-literary collections are included. We can be more precise for 19th century dust jackets and publisher-supplied removable coverings. These now number approximately 1,000, ranging from the early 1820s (American and English annuals in cardboard sheaths) to the present. Edward Falkener's The Museum of Classical Antiquities (London, 1860) is probably our earliest true publisher's dust jacket, and Coventry Patmore's The Children's Garland from the Best Poets (Cambridge, Mass., 1863) our earliest American dust jacket.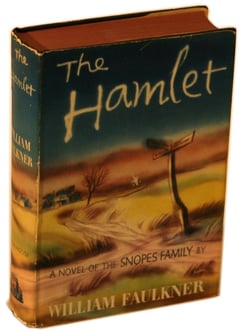 Books Tell You Why: Which items are visitors to the library most interested in?
David Whitesell: As one might expect of a large public educational institution, our readers form a very diverse group. Many, it must be admitted, do not visit us in order to consult our dust jacket holdings, though visitors greatly enjoy seeing these in the exhibitions we mount in our gallery, as do UVA students attending the many instructional sessions we host. Bibliographers, book historians, and literary scholars make regular use of our holdings, though the highest demand probably occurs each summer when our collections are heavily used by Rare Book School classes.
Books Tell You Why: Is UVA continuing to build its dust jacket collection? If so, what are some of the most important considerations for new additions? I.e., how are you hoping to continue to shape the collection?
David Whitesell: Yes, we are committed to building our holdings. We took a major step last year when we purchased the celebrated collection of over 800 19th century books in dust jackets and removable coverings formed by bookseller Tom Congalton. If one adds to this the nearly 200 19th century examples already here, UVA may well have the largest such collection to be found anywhere. At the present time, our priority is to augment our 19th century holdings, with an emphasis more on documenting the development of the dust jacket and removable enclosures than on collecting "high spots" or literature exclusively. One reason for moving in this direction is that UVA's Bibliographical Society has taken a leading role in disseminating information about the early dust jacket by publishing the book, Book-Jackets: Their History, Forms, and Use, authored by its president, G. Thomas Tanselle. We intend to support their initiative by assembling as comprehensive a collection of early dust jacket offerings as possible.
Books Tell You Why: When researchers visit the library, are there special protocols for handling a dust jacket (as opposed to a rare book)?
David Whitesell: Researchers will find our collection easy to use, as there are no special protocols for access or handling. The vast majority of our dust jacket holdings are enclosed in mylar and wrapped around their respective books. Some are still filed separately per a system established long ago, when it was not uncommon for research libraries to store a dust jacket this way, but we intend to return all to the shelf except for those which, because of rarity or fragility, are better stored separately.
Books Tell You Why: Are there particular preservation and conservation issues with these items? And how does UVA approach those issues?
David Whitesell: Some of the dust jacket holdings, of course, present preservation challenges because of the poor quality paper on which they were printed, or because they are now in a tattered, fragmentary state. UVA is fortunate to have a conservation lab and trained conservators who can deacidify, mend, encapsulate, and/or prepare custom housings for these items as needed. The Congalton collection, which includes a number of volumes in now-fragile publisher's boxes, presents added challenges, which we are addressing by housing these items in custom cases. We also have a state-of-the-art digital studio in our building, and we hope to begin digitizing our 19th century dust jacket holdings soon. Not only would this aid our preservation efforts, but it would also enable us to make these images freely available via UVA's online library catalog.
Many thanks to David for taking the time to speak with us about UVA's valuable dust jacket collection and its significance for students, researchers, and others fascinated by the history of the book.