Jack Kerouac and the Beat Generation paved the way for a new era of literature and greatly influenced our later contemporary works. His writing was revolutionary, experimenting with style, words, and sound. Although he is hailed as one of the greatest American writers, Kerouac was relentlessly criticized by his contemporaries.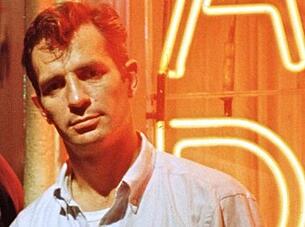 Kerouac was born in Lowell, Massachusetts on March 12, 1922 unto French-Canadian immigrants Léo Alcide Kéroack and Gabrielle-Ange Lévesque. His father owned a print shop, while his mother stayed home taking care of her young boys. His full name was Jean-Louis Kéroac, however his baptism certificate lists his name as Jean Louis Kirouac, which is a common French spelling of his last name. His parents spoke French at home, and like many first generation immigrants, he did not learn English until he started school at the age of six; he wasn't proficient until he was an adolescent.
When Kerouac was four, his nine-year old brother, Gérard, died from rheumatic fever. This tragic death influenced Kerouac and his writing for the rest of his life. While his mother dived into a religious life—which is prevalent in Kerouac's writing--his father turned to alcohol and gambling after his printing shop was destroyed. As a child, Jack's two main hobbies were reading and sports, namely football. His dedication and excellent performance as a running back granted him scholarships to several prestigious universities.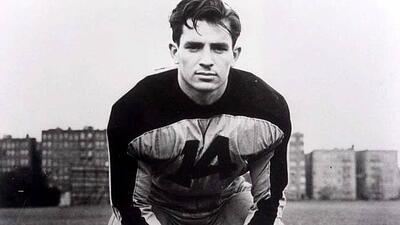 He settled on Columbia University, and moved to New York City when he was at the vulnerable age of seventeen. During his freshman year at the university, Kerouac suffered a leg injury, forcing him to sit out while his leg healed. Although his leg had completely healed by his sophomore year, his coach continued to bench Kerouac. With the quick ending to his football career, Kerouac dropped out of school, but lived in the city with his then girlfriend and future wife, Edie Parker. It was during this time that Kerouac was exposed to jazz, which would inspire his sporadic style of writing. He began to focus on his writing, and met lifelong friends Allen Ginsberg, Neal Cassidy, and William S. Burroughs.
From 1942 to 1943 Kerouac served in the United States military, first as a Merchant Marine and later in the US Navy. He did not adjust well to the military life, preferring to be alone, and was honorably discharged on psychiatric grounds only a few days after serving in the Navy. His experiences in the military inspired his first novel, The Sea is My Brother (1942). This novel was not published until 2011, decades after his death. Kerouac never thought of publishing the story because he regarded it as terrible.
In 1950, with the help of Allen Ginsberg, Kerouac had his first published novel, The Town and the City. This was his first semiautobiographical account of family hardships and the difficulty he faced balancing his alternative lifestyle and his family.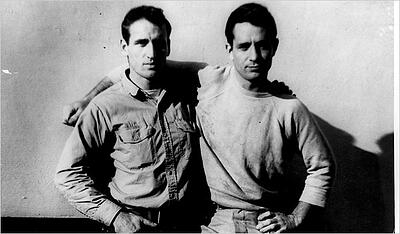 Neal Cassady and Jack Kerouac
Throughout the late 1940s and early 1950s, Kerouac traveled across the country numerous times with Neal Cassidy. These trips would later inspire his greatest novel, On the Road. This story was written on a single scroll. Kerouac taped long sheets of tracing paper together so he would be able to type fluently on his typewriter without having to pause to feed more paper into the machine. The scroll totaled 120 feet.
Kerouac had a difficult time getting On the Road published due to its unique style—publishers did not believe anyone would read anything like that—and because of the racy content that was not deemed appropriate for the time. However, following its publication in 1957, it became a bestseller and a classic overnight.
He continued writing; however, his later novels were less popular, The Dharma Bums (1958) focusing on his spiritual journey, Maggie Cassidy (1959) the story of a high school love, and Visions of Gerard (1963) which told the story of his brother's short life, the meaning of existence, love, and childhood innocence.
Despite his appreciation for the success of his writing, Kerouac did not adjust well to the fame he received. The constant criticism and attention caused him to turn to drugs and alcohol which would permanently damage his liver. On October 20, 1969 Kerouac was rushed to the hospital due to the side effects of internal hemorrhaging. He passed away early the next morning.
Even after his death, his works continue to be published posthumously. On the Road remains a great American classic, touching the hearts of young people across the globe.