"He was mastered by the sheer surging of life, the tidal wave of being, the perfect joy of each separate muscle, joint, and sinew in that it was everything that was not death, that it was aglow and rampant, expressing itself in movement, flying exultantly under the stars." ~Jack London, The Call of the Wild
Writer and social justice activist Jack London turned every life adventure into a published story. A master of fiction, his writings ran the gamut from novels and short stories, to poems, and plays, and he also wrote nonfiction essays and worked as a journalist. Born on January 12, 1876 in San Francisco, to an unwed mother, London never knew his father. He grew up poor, which was among the conditions he attributed to his success as a writer. London would become one of the most widely read and financially successful writers of his time.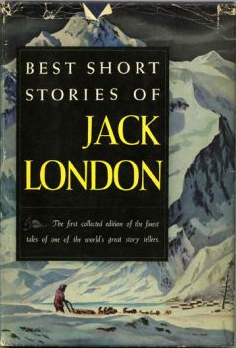 As a young man, London dropped out of school and rode the rails across the country, protesting for workers rights. He did a month in prison for vagrancy, later writing that the conditions of imprisonment were "unprintable." Returning home, he worked as a sailor—traveling the South Pacific—and in a jute mill.

At 17 years old, London went back to finish high school when the The San Francisco Call had a nonfiction writing contest. Though lacking formal education, London was well read, and his mother pushed him to write about his traveling adventures. He submitted his story "Typhoon Off the Coast of Japan." London won the contest, ahead of college students from Stanford. And though he was able to scrape together the funds to enter college at Berkeley, he wasn't able to complete his degree.

In 1897, London followed the Gold Rush to the Klondike, which would provide the backdrop to his best known stories. Due to the lack of fresh produce, London got scurvy and returned home to California, only to find that his stepfather had passed away. London resolved to make money with his writing, and he churned out story after story. In 1899, his short story "A Thousand Deaths" was published in the Black Cat. By the next century, he had a handsome income from published magazine pieces.

His story "Diable" (1902) about an abused dog who fights back against its attacker, sold to several outlets. It was followed by Call of the Wild—first published in 1903 in The Saturday Evening Post and then as a novel that same year— which was followed by The Sea Wolf in 1904.

By then, London had two children, but his marriage was loveless. He had chosen to marry for friendship and stability, but the passionless union was faltering. It may have been reflected in the 1903 novel, The Kempton-Wace Letters, which he anonymously co-authored with writer Anna Strunsky. The book was a novel of letters between two gentlemen who attempt to debate love and marriage down to a science.

In 1905, London wrote The Game, based on his time as a sports reporter covering boxing for the Oakland Herald. That same year he divorced his first wife and quickly remarried writer Charmian Kittredge. They had a happy and well-matched marriage, despite the loss of two babies in infancy. The couple traveled frequently, especially to Hawaii, trips that London

—

naturally

—

wrote about. The couple bought a ranch in the Sonoma Valley, which London attempted to make profitable to no avail since he was frequently away.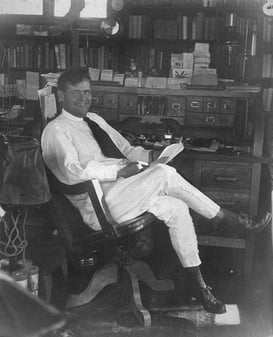 His story Before Adam, about evolution, was serialized in 1906 and 1907 before it was published as a novel. He wrote the dystopian novel The Iron Heel in 1908, which would inspire George Orwell's 1984. In 1909, Martin Eden, a novel about a self-educated struggling writer, was published. Burning Daylight, about the Gold Rush, was published in 1910 and was the best-selling book in London's lifetime.

In 1912, London published The Scarlet Plague, about post-apocalyptic life after a biological disaster in 2073, and A Son of the Sun, an eight-story collection about the South Pacific.

In 1913, London wrote the autobiographical John Barelycorn, about his struggle with alcoholism. That same year The Valley of the Moon, about a working-class farmer in Oakland, was also published.

At the end of his life, London suffered from many painful illnesses including kidney stones and kidney failure, and died of uremia at home on the ranch on November 22, 1916.

Undoubtedly, Jack London invigorated the genre of adventure writing and remains a legendary author of American literature to this day.