Biography lends to death a new terror.
-Oscar Wilde

Wilde's take on biography is most obviously meant to garner a laugh—maybe a nervous one— at the thought of leaving the detailing of one's life in the hands of another. As a result, perhaps in a roundabout way, Wilde also sheds light on the responsibility that falls to the biographer. After all, biographers hold an incredible power, and they can choose to wield it in a number of ways.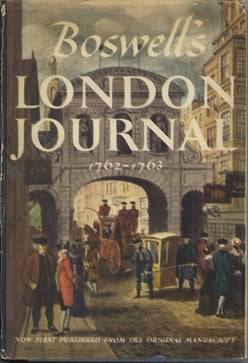 The biographer's written account is, in many cases, how the subject is remembered, for better or for worse. Thus, the art form holds a particular weight. Arguably, a biographer's take on the life he spotlights is necessarily biased by his own opinions. How much of that bias makes its way into print, and in what way, is up to the biographer. Thus, writers who take on the role of detailing others' lives open themselves up to criticism and critique. Often, they find their own life's work judged based on the justice they did to another's life and work.

A premiere example of this is James Boswell's, The Life of Samuel Johnson LL.D. It has been heralded by many as the greatest biography written in the English language, and Life of Johnson cemented both Boswell's and Johnson's places in history.

The two met, fittingly, in a bookshop in 1763 when Boswell was only 22 years old. Though Boswell was nearly three decades Johnson's junior, they became close friends and shared a common interest in writing, literature, and literary critique.
Dr. Johnson is best known for his A Dictionary of the English Language—the first and most widely used book of its kind, popular until the publication of the Oxford English Dictionary a century later. Dr. Johnson also provided literary criticism in his edition of Shakespeare's plays and for a compilation of poems he published. Interestingly, he also critiqued Boswell's thesis.

Boswell spent much time detailing memorable moments and takeaways from his time with Johnson in a series of journals which would later become the basis for his biography. Boswell's Life of Johnson was a deeply personal endeavor, and his approach to penning the biography is legendary. In a way, he spent years training to write what would become his magnum opus, and the publication of Life of Johnson saw all those years of hard work and study pay off.


More specifically, Boswell spent years in a sort of constant awareness of Johnson, his life, and his idiosyncrasies. He recorded everything, and he didn't withhold much of anything in the biography. He painted a full picture of Johnson, including his faults and his less-than-glamorous traits. In one case, Boswell wrote so thoroughly regarding Johnson's stammers and outbursts that experts were able to posthumously diagnose him with tourettes syndrome. To some, Boswell's personal approach is off-putting. To others, it makes for a fascinating read.

Despite his groundbreaking approach to biography, many critics have commented that in Life of Johnson, Boswell took too many liberties. He changed some of Dr. Johnson's quotes and skewed details to fit his own take of the man's life story. He has also been criticized for focusing too heavily on Johnson's later life and not enough on his early years, most obviously because those were the details to which he was most privy. Other biographers have since tried to "right" Boswell's alleged missteps and put forth different types of biographies on the same man. But, none have earned Boswell's same overarching fame.

Interestingly, we still have the debate over how "personal" biographies should be to this day. Recently, there has been much discussion about referring to subjects within biographies by their first names. Robert Crawford's biography of T.S. Eliot refers to the legendary poet as "Tom." Crawford claims to do so to bring the focus to the human being and the person behind the legend. Again, some like this approach; others don't.

Whether you prefer your biographies rigid and respectful or more fluid and personal, we can all agree that the art of biography—the research, the time, and the complete exploration of one's subject—is necessary to bring the stories of time's past to present and future generations. And, in doing so, a biographer holds immeasurable power.