Born on March 22, 1947, James Patterson is an incredibly prolific author who mostly specializes in thrillers but also dabbles in the non-fiction, young adult, and romance genres. However, before he became a best-selling author with more than 95 titles under his belt, he worked in advertising.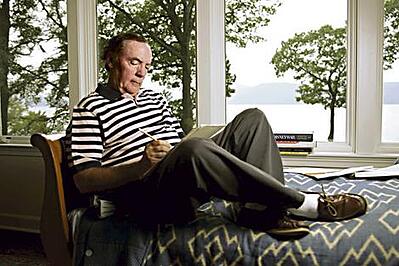 Born and raised in Newburgh, New York, Patterson moved with his family to Boston following his senior year of high school. There he got a job working as an aide at McLean Hospital in Belmont. Due to his night and weekend shifts, Patterson ended up with a plethora of time, in which he began to read in earnest. He developed into something of a literary snob, almost exclusively reading works by such authors as Jerzy Kosinski, Jean Genet, and Evan S. Connell.
However, after Patterson graduated from Manhattan College with a degree in English, he decided to forgo graduate school at Vanderbilt University and instead moved to New York City and got a job as a junior copywriter at J. Walter Thompson. While working there he began to read commercial books, things like The Exorcist and The Day of the Jackal, and his eyes were opened to books for the masses. Patterson said, "I always felt I could write a reasonable literary novel, but not a great one. Then I thought, I can do this. I understand it, and I like it." So Patterson began working on his first novel. He spent nights and weekends hard at work on his typewriter to produce The Thomas Berryman Number, which after much rejection he finally sold it to Little Brown Books for $8,500.
Since that time, Patterson has gone on to break phenomenal records in terms of publishing. Most notable are his Alex Cross stories, The Women's Murder Club Series, and his young adult series – which he has said he began in part to help encourage his own son to begin to love reading. He holds the Guinness World Record for the most #1 New York Times Bestsellers of any author, and it is estimated that one in four of all hard-cover suspense books sold was written or co-authored by Patterson. He is said to be the busiest man in publishing; with twelve new works still to be published this year, clearly that is an understatement.
However, Patterson's success does not come without some controversy. Many in the literary world do not feel that Patterson should receive the accolades that he does. He employs many co-authors to help him keep his ambitious publishing schedule. In fact, his job is more architect and producer of the works than truly the author any more. Patterson writes a detailed outline of the book's plot and one of his co-authors will draft the chapters for him to read, revise and if necessary rewrite. Because of this new style of mass producing works, many other authors do not like him. Stephen King has been known to call Patterson a "terrible writer," and yet Patterson greatly outsells him.