Jean Grolier de Servières, vicomte d'Aguisy was a one of the first noted private collectors of ornately bound books. He is said to have had over 3,000 volumes, most made specifically made for him. He was a patron to binders and the literary arts, and many books were dedicated to him.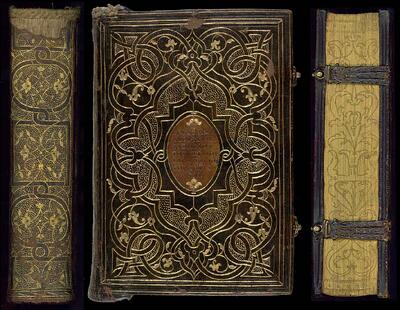 Born to Italian parents in Lyons, France in 1489 or 1490, Grolier was from a wealthy family and followed his father into civil service, both men serving the post of Treasurer General. The younger Grolier served twice in Milan, from 1509 to 1512 and from 1515 to 1521. Scholars divide his collection by the years he spent there.
While in Italy, Grolier befriended one of the world's first publishers, Aldus Manutius, founder of Aldine Press. They were both Renaissance humanists and belonged to a literacy circle alongside Erasmus.
It was common for books to be sold unbound at the time, and the buyer would take the book block to his own binder. Grolier invested quite a bit into filling his library with beautifully bound volumes, and the books in his library had a unique style. Grolier bindings were interlaced and patterned, often in arabesque or geometric shapes, with double lines or curves, strap work, and gold tooling. The soft calfskin leather, typical of French workmanship, was often painted. A few of Grolier's books have classical temples or portico, rare for that time. Grolier's designs remain among the most imitated even today.
For centuries, it was widely accepted that Grolier's personal library was Italian made, but twentieth-century discoveries point to French artistry and binders. Although a few of his books were acquired in Italy, his collection was exclusively French-made by 1530. Grolier also acquired books that were not expressly crafted for him, which led one recent German scholar to assert Grolier was a thief who acquired his collection maliciously.
Other bibliophiles, whose collections also contributed to the launch of the art of bookbinding, were the wife of King Henry II, Catherine de Medici, and the King's mistress Diane de Poitiers, as well as Grolier's protegé Thomas Mahieu. They were all patrons of binder Claude de Picques.
While Mahieu's book were even more intricate than those of his mentor, both inscribed their books with ET AMICORUM, and personal mottoes on the bottom of the cover. One of Grolier's was Portia Mea, Domine, Sit in Terra Vivetivm (Let my portion, O Lord. be in the land of the living).
Grolier died in 1565, and was buried at the Abbey of Saint-Germain-des-Pres in Paris, which was a hub of intellectual life until the French Revolution. It was home to a large scriptorium and library, which were lost to a fire during the French Revolution. The Grolier Club, a private bibliophile society founded in New York City in 1884, was formed in Jean Grolier's honor.