American composer, Jerome Kern, was a colossus of twentieth century musical theater with a career spanning over forty years. His success in theater and film provided him the means to amass an equally remarkable rare books collection. Born in New York City on January 27, 1885, Kern was the composer of such iconic songs as, "The Way You Look Tonight" and "Long Ago (and Far Away)."
An avid reader, Kern's love of books left its greatest mark on his career through the musical for which he is best known, Show Boat. An admirer of Pulitzer Prize winning novelist, Edna Ferber, Kern is credited with the idea of turning her 1926 bestselling novel of the same name into a musical. Another professional nod to his love of literature came in 1942 in the form of the last orchestral suite he composed, "The Mark Twain Suite: Portrait for Orchestra."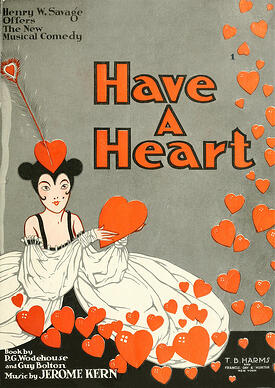 Kern's 1945 New York Times obituary notes that among those gathered around him during his final hours was fellow musical theater legend, Oscar Hammerstein II, with Irving Berlin arriving at the hospital to pay his respects just after Kern's death. During his four-decade career, Kern collaborated with the likes of P.G. Wodehouse, Johnny Mercer, and Ira Gershwin, and was nominated for eight Academy Awards, winning two. Additionally, his obituary noted that, "He was a collector of rare books, and at one time it was said that he was better known in the bookshops than in the marts of the musical trade." His collection of rare books became so large that he had to have a room added to his house in Bronxville, New York. At its height, Kern's collection encompassed 1,488 rare books and manuscripts.
Among the gems of Kern's collection was an autographed copy of Elizabeth Barrett Browning's very first published piece, "The Battle of Marathon," which her father had published for her as a gift when she was twelve years old. Browning's father only had fifty copies printed, and at the time Jerome Kern purchased his copy, there were only twenty left in existence. Another prized work in his collection was the only known first printing of Henry Fielding's Tom Jones. Additionally, Kern owned first editions of Daniel Defoe's Robinson Crusoe and Thomas Gray's poem, "Elegy Written in a Country Churchyard," as well as an autographed copies of Robert Burns's poems and Percy Bysshe Shelley's "Queen Mab," a copy of Charles Dickens' The Pickwick Papers, and manuscripts by Alexander Pope, John Keats, Lord Byron, and Thomas Hardy.
After his wife, Eva, had a nervous breakdown in 1927, Kern decided to sell 347 books from his collection. The sale of those books earned him $28,000, and made him realize just how much his collection was worth. He sold the rest of his collection in 1929, and the Anderson Gallery of New York City handled the sale. "The Battle of Marathon" sold for $17,500. Kern's autographed Burns poetry sold for $23,000, The Pickwick Papers and Tom Jones sold for $28,000 each, while "Queen Mab" brought a whopping $68,000. All together, Kern's 1927 and 1929 book sales earned him a total of $1,729,462. Today, that would total over $23 million. It is reported that the day after the 1929 book sale came to a close, with the bookshelves of his Bronxville home left stripped bare, Jerome Kern was seen perusing a bookstore on Madison Avenue and buying yet another rare book.