Dario Fo was born on March 24, 1926 in San Giano, Italy. His family consisted of his mother, Pina Rota Fo—writer of her own autobiography; father, Felice Fo—socialist, small theatre enthusiast, and station master for the Italian railway; and a younger brother and sister. Fo spent many childhood vacations at his grandfather's home in Lomellina. He would eventually become a titan of the Italian theatre and, despite his controversial politics, go on to win the Nobel Prize.
During his time in Lomellina, he learned of the power of storytelling through his grandfather's ability to attract customers to his produce stand with his various accounts on current events and political satire.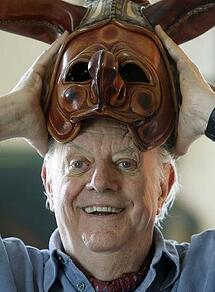 His father's job working with the train station required him to relocate his family to various cities throughout the years. Although they changed cities, the cultural settings remained the same, often in key areas where people from various backgrounds would meet. In addition to the knowledge he gained from his grandfather, Fo further mastered storytelling by listening to the stories he would overhear being exchanged by local workers in public squares or in local taverns.
Fo moved to Milan in 1940 to attend Brera Academy, but his studies were cut short with the outbreak of World War II. Fo joined Mussolini's Republica Sociale Italiana. But he and his family would later become part of an anti-fascist resistance—it is even rumored that his father smuggled war refugees, Allied soldiers, and many others to Switzerland by disguising them as Lombard peasants. Towards the end of the war, Fo was drafted into the Salo Republic. He managed to escape and remain hidden for the remainder of the war.
When the war was over, Fo returned to the Academy to continue studying architecture, but he lost interest after discovering the monotony of post-war architecture. He began painting and community theatre as a new outlet of expression. Through theatre, Fo shared his improvisation monologues and was quickly discovered by a gentleman by the name of Franco Parenti, who invited Fo to work with him on a summer variety show. Fo would actively engage the audience with his stories. He was undeniably gifted with the ability to illustrate elaborate and unique stories, filling entire theatres with roars of laughter from the tales of his childhood.
His journey with Parenti would last until 1954, and during Fo's time performing, he would be introduced to the love of his life, actress and playwright Franca Rame. The couple married in June of 1954 and had their first and only son, Jacopo in March 1955. The family moved to Rome and Fo intended to become involved with film as a screenwriter. He assisted in many productions, and in 1956, Fo co-wrote and performed in Carlo Lizzani's film Lo Svitato, alongside his wife. They continued to work in the film industry playing opposites until 1958, when they moved back to Milan. Fo insists that working in cinema improved his writing abilities, allowing him to effectively omit space and time while maintaining a flowing storyline.
The couple founded the "Compagnia Fo-Rame" upon moving back to Milan, with Fo as playwright and director and Rame as his leading lady also in charge of administrative duties. The company was extremely successful, receiving their first opportunity to perform at a theatre in downtown Milan in 1959, with Archangels Don't Play Pinball. This was his first play to ever be performed outside of Italy and earned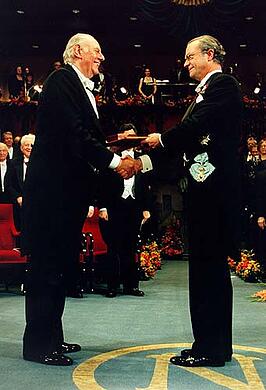 both Fo and Rame international recognition. Fo continued to write plays, write and direct television shows, and fund numerous theatre groups. Despite their great successes, the couple's life was not a complete cakewalk. As Fo added political satire to his writing, he was seen less as an artist and more as a threat to the government.
Fo's greatest and most recognized play, Accidental Death of an Anarchist, inspired by true events, opened in December of 1970. More plays followed, including: Can't Pay, Won't Pay (1974), The Tale of the Tiger (1978), The First Miracle of the Infant Jesus (1987), and The Devil with Boobs (1997).
In October, 1997, Dario Fo was awarded the Nobel Prize for literature. Many critics disagreed with the academy's decision, insisting that his ties with the Communist Party and his lashes against the Catholic Church made his works questionable. However, the Nobel Committee defended their actions saying, "He opens our eyes to abuses and injustices in society and also the wider historical perspective in which they can be placed." Fo is the epitome of a jester, a satirist conquering many different subjects, and inspiring people across the globe.