The world lost a good man on Saturday. John McCain passed away at the age of 81 after a year-long battle with brain cancer. McCain was many things: husband, father, Navy pilot, prisoner of war, senator, presidential candidate, and author. Moreover, he served as an inspiration for scores of Americans who looked to the war-hero as a no-nonsense patriot who wasn't afraid to tell the truth and get the job done, party-lines notwithstanding. Countless former colleagues and friends have come forward to pay tribute to John McCain through articles and videos. Two past presidents have been tapped to speak at his funeral events, happening over the course the next few days. If you're looking for a way to pay tribute to McCain and to honor his legacy, the following list contains a selection of his books. No other politician in recent memory is as deserving of a place on our book shelves as John McCain.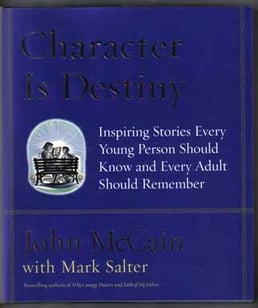 Along with co-author Mark Saltar, John McCain breaks down what he sees as the seven tenants of a quality character, providing examples of real-life people who exemplify them in even further subcategories. For example, in McCain's discussion of Honor, specifically the aspect of Loyalty, he tells the story of Sir Ernest Shackleton. When he moves on Judgement and the subcategory of humor, he cites Mark Twain. Other people's lives he explores include Winston Churchill, Pat Tillman, Mother Theresa, and Joan of Arc. Each story has meaning and a lesson.
The book is targeted toward young people, with the full title reading Character is Destiny: Inspiring Stories Every Young Person Should Know and Every Adult Should Remember. McCain's perspective is refreshing. He avoids lecturing his readers, and instead presents the facts—including the good and the bad. Anyone who picks up this book is sure to be motivated by its content and its author.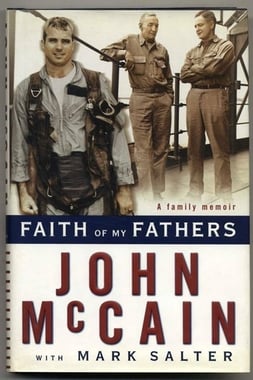 In Faith of My Fathers, McCain focuses much of his attention of the five and a half years he spent as a prisoner of war in North Vietnamese POW camps. He details the treatment he and his fellow prisoners endured, the extent of his injuries, and the faith that helped him through it all. If you haven't read anything about McCain's time as a POW, read Time Magazine's section on the subject in its obituary for McCain for a brief but thorough introduction. It'll give you a good sense as to why in a review of Faith of My Fathers, Newsweek asserted that McCain "makes the other presidential candidates look like pygmies".
Intermixed throughout this narrative, McCain details his childhood and his feelings about following in his father's and grandfather's footsteps.
Published in 1999 and co-authored by Mark Saltar, McCain's longtime aide, Faith of My Fathers was a critical and commercial success. It made it all the way to the number two spot on the New York Times bestseller list and sold more than half a million copies.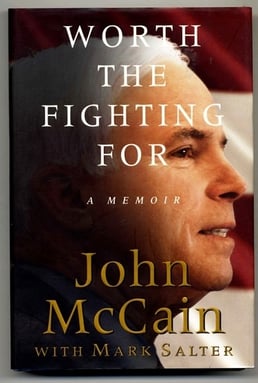 Worth the Fighting For is a follow-up to Faith of My Fathers. Though less commercially successful than its predecessor, Worth Fighting For still charted on the New York Times bestseller list. The book picks up where Faith of My Fathers leaves off, detailing McCain's last year in the Navy and exploring his rise in political ranks. Published in 2002, McCain includes information on his failed presidential run in 2000 and comments on September 11, 2001.
McCain breaks up his autobiography with stories of famous figures who have inspired him mixed throughout. Many critics found this choppy style of writing to be off-putting; however, Worth the Fighting For remains an important piece of John McCain's story.
McCain concluded his three-part autobiography series with the publication of The Restless Wave in 2018. In The Restless Wave, he explores his career as a senator, his failed 2008 presidential campaign, and his work on behalf of human rights and democracy abroad.
Other McCain titles that are necessary additions to any collection on political or military figures—or American history, for that matter—include Why Courage Matters (2004) in which McCain discusses the courage shown by others, Hard Call (2007) about decision-making, and Thirteen Soldiers (2014) which highlights a specific hero from each of Americas 13 wars.
Rest in peace, John McCain.