Jonathan Safran Foer has enjoyed a stellar career for such a young author. He has written two novels, both best-sellers and both adapted by the cinema. He has one book that straddles the line between fiction and work of art entitled Tree of Codes. In making it, he pulled lines from Bruno Schulz's Street of Crocodiles and cut out physical holes in the pages so that different readings could be made, depending on the overlap of the pages. His extensive search for a publisher led him to Belgium's die Keure who was able to print it, but only in a paperback edition. His most recent book, the nonfiction exploration of meat consumption titled Eating Animals, rounds out a short but popular oeuvre of four books. The themes that permeate his work, that of childhood, loss, and memory, establish him as an author sincere about using history to build a better future.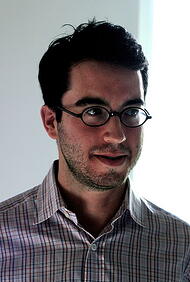 Jonathan Safran Foer majored in philosophy at Princeton. He studied under Joyce Carol Oates who insisted that the budding author had "the most important of writerly qualities, energy." Foer would later credit Oates with being the first person to encourage him to write seriously. Today, Foer encourages tomorrow's writers by teaching creative writing to graduate students at NYU.
Supervised by Oates, Foer left Princeton in 1999 with his thesis, a meditation on the life of his grandparents who endured the ravages of the holocaust. This thesis would eventually become the PEN/Robert Bingham winning debut novel, Everything Is Illuminated. Like much of his work, the novel flirts with autobiography. It follows Foer on his trip to Ukraine to find the woman who saved his grandfather's life when their Polish town was ransacked by the Nazis.
Everything Is Illuminated was the first time Foer's audience was presented with the subject of his grandparents and the Holocaust. Foer's work can be seen as considerably preoccupied with how a younger generation deals with the traumas of the past. His follow up novel, Extremely Loud and Incredibly Close presents the nine year old Oskar whose father was killed in the attacks of September 11. Oskar is led on a hunt across New York City to uncover the truth about a key he found amid his father's effects, leading him on a journey that unites him with his grandfather.
In light of his novel's subject, some critics attacked Foer for capitalizing on the tragedy of September 11. He retorted by arguing that a writer should write about his experiences and concerns, and as a New Yorker who lived through that time, it would be "risky" to avoid talking about something that affected him so much. Foer has also been criticized for his artistic risks and boldness. Extremely Loud and Incredibly Close includes various non-linguistic tools, such as photographs of objects and flipbooks, which some readers have called unnecessary. Tree of Codes, for all its audacious and novel conception, has been viewed as more superior as a work of art than a work of fiction.
Fo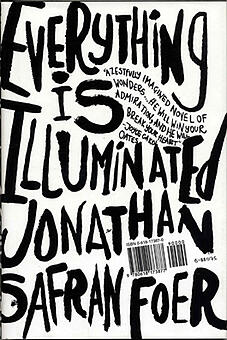 er's third book was the nonfiction Eating Animals. In it, he tackles factory farming, commercial fishing, animal treatment, and vegetarianism. He was drawn to the topic because as he became a father, he realized he was obligated to begin making firm moral decisions that he had previously avoided. In this book he once again draws upon his grandmother, who having survived the Holocaust, lived the remainder of her life with an obsession for food. As a result of experiencing excruciating hunger, his grandmother loved all kinds of food, and cooked so that her grandchildren were plump on chicken and carrots. Yet he references one episode in the life of his grandmother in which, during the throes of starvation, a Russian farmer offers her pork. As a Jew, she refuses the meal, even though the choice could have been fatal. When asked why, despite her perilous suffering, she refused to violate the dietary restrictions of her religion, she replied, "If nothing matters, there's nothing left to save."
Foer's upcoming book, Escape From the Children's Hospital, is due to be released this year. It is expected to echo the themes of his earlier work, using a catastrophic classroom accident from his childhood to examine friendship, trauma, and the powers of storytelling.
From one work to another, Jonathan Safran Foer continuously reveals his commitment to learn from the past so that a better future may be created.