Most of us have a sense of Julia Child's biography and style, at least from the movie with Meryl Streep as Julia and Stanley Tucci as Paul. But there is so much more to Julia Child than the movies that represent her. A look at the innumerable, wonderful quotes that encapsulate her personality and style leave all of us feeling like we have known her, even a little bit.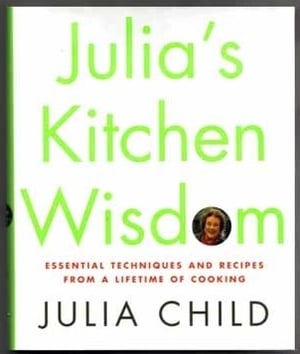 Her popularity as a TV chef and food educator moved Americans away from TV dinners and into the kitchen. She let them believe making boeuf bourguignon was as easy as she made it look. And she delivered one-liners that were witty and covered life, love, and food. Remarkably, she managed to be totally unselfconscious about standing and chatting while armpit deep in the cavity of a capon.
Unbelievable though it may seem, not everyone was a fan. She was criticized by letter-writing viewers for not washing her hands adequately. The letter-writers also were not keen on her demeanor. This writer, for one, wonders why they watched if they were so off-put by snapping bones and raw meat.
Her response was a disdain for the over-sanitary crowd. For those criticizing the high fat in French cooking, her advice was to eat in moderation. In true Julia Child style, she said one tablespoon of chocolate Russe cake was far better than three bowls of Jell-O.
Before Julia was America's Cooking Teacher
In September of 1941, years before she began cooking for the country, she volunteered with the Pasadena, California American Red Cross chapter to help prepare the country for what looked like an inevitable entry into the war. She was the creator and supervisor of what was known as the Volunteer Stenographic Services.
After Japan attacked Pearl Harbor on December 7, 1941, she worked with the Aircraft Warning Service, assisting in tracing ships along the West Coast. Then she decided in order to do more for the war effort, she would join the military. She applied to WAVES (Navy) and the WAAC (Army) but was rejected by both because of her height (6 foot 2 inches). Then she moved to Washington, D.C., looking for other ways to support the war effort.
She wanted a job that was exciting and interesting, but she did not have special skills or language ability. So, she got a job as a typist, working with the Research Unit of the Office of War Information at the State Department. She read reams of newspapers and other official documents, noting any mention of a government official. Then she typed the name and rank on an index card. This was the database used to keep track of officers in the years before computers. She had had enough of that after two months.
Still seeking a more adventurous way to support the war effort, she took a junior research assistant slot with the Secret Intelligence Branch of the Office of Strategic Services (OSS). The OSS was the precursor to our CIA. She worked directly under Colonel Donovan, the Director of the OSS. There she reviewed, filed, and did research in connection with the documents coming out of Donovan's office.
She went on to work as part of the Emergency Rescue Equipment Special Projects division of OSS. When asked about her experience with this division she said they had a lot of fun designing rescue kits and other agent paraphernalia. Julia also helped develop a shark repellent to keep sharks from bumping into underwater explosives and setting them off.
As the OSS expanded its Southeast Asia presence, Julia volunteered to work overseas. She served with the OSS Registry, was promoted to Chief, and had top security clearance. She was stationed in Ceylon and transferred to Chungking, China. She did not do field work but did support the work of spies and military personnel. She was aware of every message that went through her office, which served all the intelligence branches. Even when her records were eventually declassified, little was known of her actual service because of the highly classified nature of the activities.
Julia was ordered back to the United States in October of 1945. In January of 1946, her service ended when the OSS was liquidated. She and Paul Child were married in September of 1946, having met while both worked for the OSS. He introduced Julia to fine French cooking.
Paul was assigned to the U.S.I.A. in France in 1948. This is where Julia's culinary education began at the Le Cordon Bleu cooking school. Her career in food began because she was looking for something to do while her husband was away on work assignments.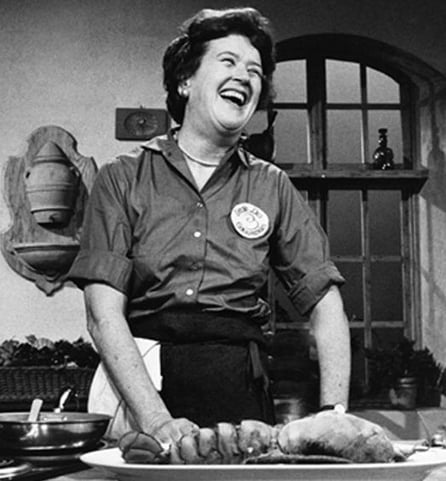 A Taste of Julia
Julia Child was nothing if not quotable. Here's a sample that'll give you an overview of her personality, style, and flair.
Two of my favorites are from a 2001 Esquire magazine interview, both indicative of absolute honesty and the willingness to say what you mean and mean what you say:
"Always remember: If you're alone in the kitchen and you drop the lamb, you can always just pick it up. Who's going to know?"
"Drama is very important in life: You have to come on with a bang. You never want to go out with a whimper. Everything can have drama if it's done right. Even a pancake."
Other noteworthy quotes are from the book Julia Child: My Life in France, written by Julia Child with Alex Prud'Homme and published in 2006.
After an unsatisfying discussion over dinner about European post-war economic plans, she found herself unhappy about what she called her lack of emotional and intellectual development. Here she evidences introspection and some insightful self-analysis.
"Upon reflection, I decided I had three main weaknesses: I was confused (evidenced by a lack of facts, an inability to coordinate my thoughts, and an inability to verbalize my ideas); I had a lack of confidence, which caused me to back down from forcefully stated positions; and I was overly emotional at the expense of careful, 'scientific' thought. I was thirty-seven years old and still discovering who I was." (pg. 82)
Commenting on her TV show being done in one 30-minute take with no stopping and no do-overs, she once again mentions her fondness for drama and excitement:
"One of the secrets, and pleasures, of cooking, is to learn to correct something if it goes awry; and one of the lessons is to grin and bear it if it cannot be fixed." (pg. 327)
In the same book, she speaks to the McCarthy era and how angry it made her. This quote seems eerily appropriate to the current times.
"In the blood-heat of pursuing the enemy, many people are forgetting what we are fighting for. We are fighting for our hard-won liberty and freedom; for our Constitution and the due processes of our laws; and for the right to differ in ideas, religion and politics. I am convinced that in your zeal to fight against our enemies, you, too, have forgotten what you are fighting for." (pg. 241)
As Paul Child was approaching his 50th birthday, in fact, three days before, he found himself in excruciating pain when trying to eat (turned out it was pyorrhea) and here, again, we find evidence of Julia's ability to find just the right phrase for the moment and the drama at hand.
"Was it a sign of Creeping Decrepitude?" (pg. 241)
Paul was vexed by his advancing years and buoyed by his theory that old age is a state of mind and a function of mass hypnosis rather than an absolute. This belief led him to quote this Latin phrase regularly. And Julia to repeat it in her book.
"Illegitemus non carborundum est." Don't let the bastards grind you down. (pg. 155)
A pitch-perfect note upon which to wrap up this survey of Julia Child's life prior to becoming America's cooking teacher and some quotes to illustrate why she was so influential and well-remembered. For those of us who don't have the ability to speak in such memorable and totally on-point phrases, she is a role model.