Three facts:
Leo Tolstoy was born on September 9th, 1828 in the Tula region of Russia.
He was a prolific writer of political and social philosophy, plays, essays, novels, and short stories.
His novel War and Peace is widely considered one of the greatest books ever written.
Beyond these basic statements, however, there is almost nothing simple that can be said about the classic novelist. Tolstoy as a subject is almost as complicated as the novels he wrote.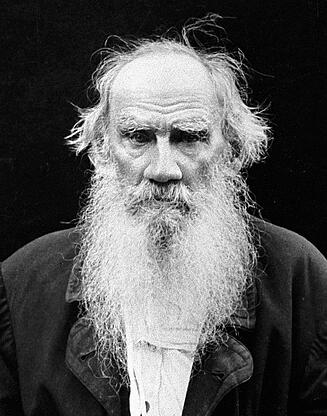 Tolstoy had a truly unusual family life. His classic novel, Anna Karenina, famously begins, "Happy families are all alike; every unhappy family is unhappy in its own way." His own family was certainly an illustration of this claim. He was thirty-four when he married eighteen-year-old Sofia Behrs (also called Sophia or Sonya). A few days prior to their wedding, he required her to read his extensive diaries chronicling his sexual history, drunkenness, and gambling. Forcing her to read this miserable tale of prostitutes, parlor maids, married women, previous children, and multiple rounds of venereal disease, was supposed to be a confession of his sins which would allow him to enter their marriage with a clean conscience. She later wrote, "I don't think I ever recovered from the shock of reading the diaries…I can still remember the agonizing pangs of jealousy, the horror of that first appalling experience of male depravity." Indeed, a few months into the marriage, Sofia wrote about killing herself - an act she attempted multiple times.
It seems the ultimate contradiction that such blindness existed in a man whose fiction reveals brilliant insight into the human heart. However, Tolstoy adhered to a vision of how things ought to be rather than the way things actually were. Sofia wrote a year into the marriage, "I am left alone morning, afternoon and night. I am to gratify his pleasure and nurse his child, I am a piece of household furniture. I am a woman." Nevertheless, she went on to bear him 13 children, and stuck with him for five decades of marriage. Finally, at age 82, Tolstoy left her and died in a train station a few days later.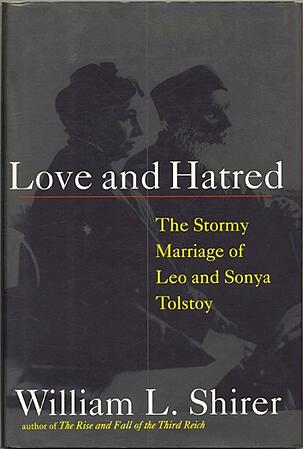 Among the reasons for their unhappiness was his increasing obsession with his personal ideology. If the great question of all political philosophy is "what is the relationship of the individual to the society," Tolstoy's novel, War and Peace, is as much a work of political philosophy as fiction. Tolstoy also wrote many essays, and books directly detailing his views on religion, society, and politics. He profoundly impacted both Martin Luther King and Gandhi with his doctrines of non-violence. Gandhi wrote that Tolstoy's treatise, The Kingdom of God is Within You, "overwhelmed" him, its "independent thinking, profound morality, and the truthfulness" "left an abiding impression."
Tolstoy's non-fiction is filled with brilliant and biting observations; "I sit on a man's back choking him and making him carry me, and yet assure myself and others that I am sorry for him and wish to lighten his load by all means possible....except by getting off his back." His writing is also shockingly narcissistic. In My Religion, Tolstoy wonders, "What, then, must I do if I alone understand the doctrine of Jesus, and I alone have trust in it among a people who neither understand it nor obey it?"
Tolstoy believed with increasingly radical fervor that people should be celibate, vegetarian, teetotaling, anarchists. They should live a life of poverty and hard work. They should believe in pacifism and the doctrines of Christianity but be atheists who renounce organized religion. He (somewhat paradoxically) believed that people shouldn't follow him, because the foundation of his worldview was following the dictates of one's own conscience rather than the mandates of an outside organization.
What can we make of the married father of thirteen who preached celibacy? Or the aristocrat who preached poverty and the rejection of private property? Or the novelist unable to understand his own wife, but able to reach across generations, across cultures, and speak straight to our souls?