Two decades ago, "the boy who lived" soared across the ocean and Harry Potter and the Sorcerer's Stone made its way into the hands of American readers for the first time. Now, twenty years later, almost everyone knows the stories, and the beloved characters from the Harry Potter series feel like old friends. Many of us know the history of J.K. Rowlings' writing process, and how she went from single mother, struggling to make ends meet, to literary superstar. Most readers of the Harry Potter Generation can identify the books by their cover art, even by their color schemes. But what are some of the lesser known facts about the Harry Potter series, particularly the first and subsequent U.S. editions in comparison to their U.K. counterparts? In honor of the twentieth publication anniversary of Harry Potter and the Sorcerer's Stone, here are some pieces of Harry Potter trivia that'll help you ace even the most challenging "History of Magic" exam.
The famed Harry Potter Logo made its first appearance on the cover of the first U.S. Edition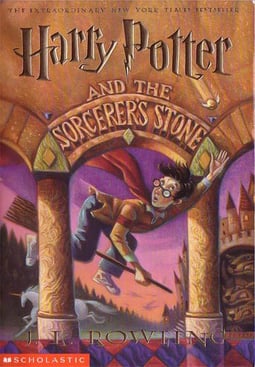 The custom lettering of "Harry Potter" on the cover of Harry Potter and the Sorcerer's Stone was created by David Saylor, Art Director at Scholastic. He was also responsible for finding an artist for the jackets for the U.S. editions. He described the nerves he felt over the process in an interview with Children's Illustrators.com:
"I have to admit that I was little intimidated when I first started thinking about an illustrator for Harry Potter and the Sorcerer's Stone (Philosopher's Stone in the UK). Not because it was famous at that point, but because I liked the book so much I wanted to make sure I did it justice. I thought about it quite a bit: I tend to let things mull for a while until my feelings come to the surface. I'm fairly good at visualizing what I'm looking for once I know how I feel about something. Then I start looking at art samples.

I had seen Mary GrandPré's work and I'd kept some samples in my art files. I pulled out her work, and the editor, Arthur Levine, was there with me at the time. As soon as I looked at her work, I had an "A-Ha!" moment. I knew she was right for the book. One sample in particular was of boy in a striped shirt walking among some ornamental hedges. It had the perfect combination, for me, of the ordinary and extraordinary."
The logo, with its trademark lightning bolt "P" is iconic, and for many Americans, our first impression of Harry was shaped by Ms. GrandPré's vision.
On the occasion of the book's 15th publication anniversary, Kazu Kibuishi, a well-known cartoonist and comic-book author, designed new covers. However, he kept in place the original Sayor logo. It has become so synonymous with the brand—the smash-hit Harry Potter films also used the logo as did later U.K. editions—that to remove it would be like removing a piece of Harry's story.
Scholastic also released 20th anniversary editions of the Harry Potter books with original cover art by Caldecott Award-winning illustrator Brian Selznick. When laid flat with the cover up, the illustrations connect from one book to the next to form a complete, interwoven image.
What about the logo and cover art of U.K. editions?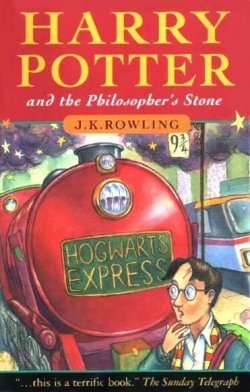 In the U.K., Australia, and Canada, the Harry Potter logo (seen at left) was presented in Cochin Bold typeface. The cover art illustration for the first U.K. edition—where we see Harry about to board the Hogwarts Express—was completed by Thomas Taylor whom Bloomsbury commissioned. He did a pencil sketch, filled in with watercolor, to complete the cover art. It took him two days to draw, and he delivered the completed illustration directly to the publisher.
Taylor's art only appeared on Harry Potter and the Philosopher's Stone. He was a novice illustrator and this was his first job. In his own words: "This was the only Harry Potter cover I did. Quite understandably, once the books took off — and considering that the stories progress in age through Harry's school career — Bloomsbury turned to more experienced illustrators with a track record of art for this age range."
Interestingly, the back cover art completed by Taylor depicts an anonymous wizard. Many have wondered who this wizard is. Is it a younger image of Albus Dumbledore? Is it Nicolas Flamel himself, complete with the philosopher's stone hidden in his pocket? Professor Quirrell, perhaps? None of the above, in fact. Taylor set the record straight in a blog post in which he reveals that he was commissioned only to draw a "wizard", and as there were many to choose from in the book, his is just that—an ordinary wizard who Harry could have passed walking around Diagon Alley. Taylor goes further and shared a photo of his dad, whom he calls "magical" and states that he based his drawing for the back-cover wizard off of his father.
Later editions of Harry Potter and the Philosopher's Stone exchanged Taylor's wizard with an image of Dumbledore.
Speaking of the back cover…
Have U.S. readers taken a look at the back cover and book summary of the U.K. edition? Collectors perhaps have noticed the mysterious wizard mentioned above, as he is found on only the rarest editions of Harry Potter and the Philosopher's Stone. And the book summary itself is interesting in this first edition in that it is so basic: "Harry Potter thinks he's an ordinary boy — until he is rescued by an owl, taken to Hogwarts School of Witchcraft and Wizardry, learns to play Quidditch, and does battle in a deadly duel. The Reason: HARRY POTTER IS A WIZARD."
Of course, these are the facts of the story even if they are presented in a sort of ad-hoc way. The U.S. edition features much more detail:
"Harry Potter has never been the star of a Quidditch team, scoring points while riding a broom far above the ground. He knows no spells, has never helped to hatch a dragon, and has never worn a cloak of invisibility.

All he knows is a miserable life with the Dursleys, his horrible aunt and uncle, and their abominable son, Dudley—a great big swollen spoiled bully. Harry's room is a tiny closet at the foot of the stairs, and he hasn't had a birthday party in eleven years.

But all that is about to change when a mysterious letter arrives by owl messenger: a letter with an invitation to an incredible place that Harry—and anyone who reads about him—will find unforgettable.

For it's there that he finds not only friends, aerial sports, and magic in everything from classes to meals, but a great destiny that's been waiting for him... if Harry can survive the encounter."
There is really no comparison when it comes to the details and delivery of the book summary's in the first U.K. and U.S. editions. Obviously, Scholastic had the benefit of Bloomsbury's trial run, and it knew that Rowling's book had the capacity to be a huge success.
Publication Dates and the Title Change
Indeed, the first U.S. edition of Harry Potter and the Sorcerer's Stone was published over a full year after the first U.K. edition of Philosopher's Stone (June 26, 1997 vs. September 1, 1998). Scholastic insisted upon changing the title to read "Sorcerer's Stone" rather than "Philosopher's Stone" because they assumed American children wouldn't pick up a book or take any interest in philosophers. Scholastic thought it was a stretch for American readers to draw the connection between philosophers and magic, having not had the background of the myth of the philosopher's stone (that which turned any metal to gold and generated the elixir of life) as the U.K. readers did. We'll never know if Scholastic was correct in this assumption; however, something tells me that Harry Potter would have caught on and become as famous as he is today no matter what his books were titled.
Case in point: the release schedule for the remaining books. Obviously, American readers were impatient as the publication dates for U.K. and U.S. editions grew closer and closer together with the second and third installments.
The second book, Harry Potter and the Chamber of Secrets, was published with an 11 month delay for U.S. readers (July 2, 1998 vs. June 2, 1999), and the third book, Harry Potter and the Prisoner of Azkaban, was published in the U.S. two months after its British counterpart (July 8, 1999 vs. September 8, 1999).
By the time Harry Potter and the Goblet of Fire rolled around, Bloomsbury and Scholastic were on identical publishing schedules (both publishers released the fourth installment of the series on July 8, 2000). So great was the demand for these titles that Scholastic was losing out on sales because American readers were buying them through online retailers from across the pond.
Twenty years have passed since September 1, 1998 when Harry Potter flew into our hearts and minds. It's safe to say he has curled up there and, unlike the Dursleys, not many of us have any plans to kick him out.
*Abe Books has an excellent guide to determining first editions and Harry Potter book values. Click here for more information.
Sources: Slate, Scholastic, Business Insider, Children's Illustrators, Thomas Taylor: Me and Harry Potter, Thomas Taylor: The Mysterious Wizard