For many, Florida is something of a no man's land—a state whose cultural and geographic regions make for an eclectic, disparate mix of traditions and heritage, incorporating southern culture from the north and Caribbean influences from the south. It's a state brimming with swampland and beachfront, with incongruities like the Everglades and the Keys, a combination attracting a diverse population and cross-section of people who desire for an even more diverse literature that speaks to their experience as Floridians.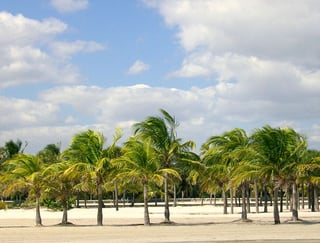 Yes, it's safe to say Florida is more than the theme parks and touristy destinations that make up so much of the state's identity. In fact, locals will tell you just the same and probably roll their eyes when you mention Mickey or Goofy. In that way, it makes perfect sense why some of America's finest writers and poets have at one time or another—full-time or snow birds—called the Sunshine State home. With its wealth of landscapes—socially, culturally, and geographically—Florida is prime breeding ground for a literary scene as vast and disparate as the state itself.
Southern Gothic writers, crime writers, romance writers, titans of poetry, and straight-up literary fiction writers have all rested their pen and paper, for whatever length of time, in Florida's sprawling urban centers and most remote, rural townships. So the next time you and the family are on a road trip to Disney, or when you find yourself landing at Miami International, here are five Florida writers you should be reading.
Robert Frost (1874-1963)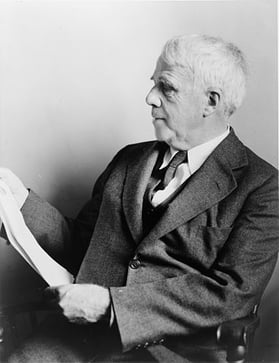 One of America's most preeminent poets, Frost wintered in Florida from 1940 until his death in 1963, first in Key West and eventually building a more permanent home in Coconut Grove. Born in San Francisco and passing away in Boston, Frost spent his life traveling much of the country, though his poems most often center around rural, small town life in New England with an emphasis on the beauty of the individual line and the power of the image.
Frost's exploration of social and philosophical issues might seem incongruous for a poet with such commercial success, but his efforts to push the boundaries of poetic exploration into the human condition earned him four Pulitzer Prizes (New Hampshire: A Poem with Notes and Grace Notes, 1924; Collected Poems, 1931; A Further Range, 1937; and A Witness Tree, 1943) and a host of other accolades, including tenure as the first Poet Laureate of Vermont in 1961.
Marjorie Kinnan Rawlings (1896-1953)
Best known for her 1938 smash novel The Yearling, which won the Pulitzer in 1939, Rawlings moved to Florida in 1928 after studying in Wisconsin. She began chronicling the day-to-day rural life of characters often based closely on friends, family, and acquaintances. Though her early attempts at fiction writing landed firmly in the romance genre, Rawlings was encouraged by editors to pursue the stories of those around her who influenced her daily life. Rawlings' early published stories focused heavily on the residents of Florida Scrub County—a remote, backwoods region of the state—and spoke to the humanity, pain, and perseverance of everyday people. Her first novel, South Moon Under (1933), captured the struggle and glory of characters set in her hometown of Cross Creek and helped launch a literary career that would last until her death in 1953. Visitors can tour Rawlings' home in Cross Creek as it was designated a historic state park in 1970.
Ernest Hemingway (1899-1961)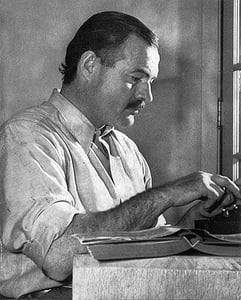 Yes, we all know of Hemingway's love for his adopted home of Key West, which he discovered with his wife while on vacation to Florida in the late 1920s. We've heard the stories of cats with the wrong number of toes, of mojitos, of nights spent pondering life's complexities and nuances while overlooking the Keys from Hemingway's oceanfront home. But what is less known is how productive Hemingway was while living in Key West, producing early drafts of some of his most famous stories and novels, including a preliminary version of A Farewell to Arms. Hemingway wintered in Key West from the 1930s to the 1950s, often using his time there as a place to reflect and flesh out ideas for his projects. Fans can visit a number of historical sites related to Hemingway throughout Key West, including the home where Hemingway worked and lived during his off-and-on tenure as a Florida resident.
Elmore Leonard (1925-2013)
Born in Louisiana, raised in Detroit, Leonard is another of America's most prolific, admired authors who spent his winters in Florida, particularly in the North Palm Beach area where he outlined, wrote, and edited some of his most famous works. A crime, western, and thriller writer, Leonard broke into the literary scene in the early 1950s with a series of Western-inspired pulp stories and novels, the most famous of which was 3:10 to Yuma (published in 1953). Commended for his gritty realism and hard-nosed characters, Leonard's breakout hit came with the publication of 1985's Glitz, a crime novel about a serial rapist and the detective who works to put him behind bars. A number of Leonard's stories and novels have been adapted for film and television, including such hits as Jackie Brown, Get Shorty, and Out of Sight.
Susanna Daniel
The youngest of Florida's most esteemed fiction writers, Daniel is a born and bred Florida native who grew up in Miami on Biscayne Bay, the home of what is affectionately referred to as Stiltsville, a small community of homes built upon stilts in the middle of the bay in the 1930s and 1940s and which were severely decimated by Hurricane Andrew in the early 1990s. Daniel's first novel of the same name (Stiltsville) was released in 2011 to rave reviews and sales and was awarded the 2011 PEN/Bingham Award—in addition, Oprah.com named the book to its 2011 summer reading list. Daniel is also the author of a second novel, Sea Creatures, published in 2013, which also heavily features her hometown of Miami and the main character's efforts to reconnect with her home after years spent living elsewhere.