San Francisco has a long history of activism, and in many ways the city has served as a literal and metaphorical center of postwar LGBT rights struggles. Yet the Bay Area also has an important reputation as the heart of modern and contemporary poetry. Kenneth Rexroth is credited with starting the San Francisco Renaissance in the 1940s, and he famously organized one of the first modern poetry festivals at the Lucien Labaudt Gallery in San Francisco around the same time. Shortly thereafter, Lawrence Ferlinghetti moved to the city and opened City Lights Bookstore in 1953. The now-famous shop went on to publish—and continues to do so—some of the most famous works of contemporary American literature.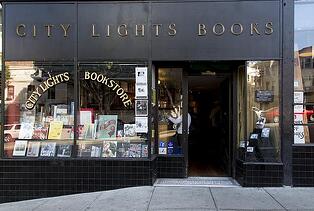 What's the connection between the Bay Area's parallel histories of activist work and poetry? It's no secret that literature and politics often intertwine in the region. When it comes to San Francisco, we might start thinking about these interwoven narratives as beginning just after the end of World War II. Since then, art and political expression have continued to come together in varying ways in northern California.
Activism, Free Speech, and the Beats
A number of forces (and different literary figures) had to emerge in the 1940s to make way for the Beat poets on the West Coast. After World War II ended, a sense of disillusionment with politics and constrictive social values led poets like Allen Ginsberg and Gary Snyder to move to California. Together with other poets like Gregory Corso and Ferlinghetti, Ginsberg and Snyder spent much of the 1950s redefining the role of poetic language in political life.
In 1955, Ginsberg wrote "Howl," published a year later by City Lights Books in his collection, Howl and Other Poems. An openly gay poet, Ginsberg inflected "Howl" with images of and questions about homosexuality in the 1950s. As Robert K. Martin has emphasized, part of Ginsberg's political appeal is that he "made his sexuality an integral part of his public image and his poetry." Through his poetic language, Ginsberg acted as an early activist, bringing to his readership a series of lines that ultimately would result in an obscenity trial:
"who balled in the morning in the evenings in rosegardens and/ the grass of public parks and cemeteries scattering their/ semen freely to whomever come who may,/ who hiccupped endlessly trying to giggle but wound up with a sob behind a partition in a Turkish Bath when the blond & naked/ angel came to pierce them with a sword, . . ."
While the obscenity trial raised questions about free speech, homosexuality, and West Coast politics, Ginsberg and Ferlinghetti (his then-publisher) ultimately won the case.
Social Movements of the 1960s and 1970s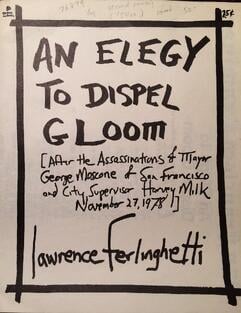 Ginsberg and the Beats continued to influence writers in the Bay Area, along with the poets most closely associated with the San Francisco Renaissance, into the 1960s. At this time, a wave of social movements—from those focusing on race to those emphasizing matters of gender discrimination and sexual orientation—gave rise to a closer connection among activist work, poetic forms, and social justice.
Jack Hirschman began writing and translating in San Francisco, and his work has emphasized the relationship between politics and poetry. In addition to being an anti-Vietnam activist, he has translated important works of LGBT writers such as Pier Paolo Pasolini.
San Francisco also saw the rise of lesbian activist poets like Judy Grahn. Grahn was a member of the Gay Women's Liberation Group, which we know as one of the first lesbian feminist collectives to exist on the West Coast. The group established the first women's bookstore and all-woman press. Some of her notable works include She Who (1972) and The Work of a Common Woman (1978).
Speaking of the late 1970s, one of the most notable events of the decade for LGBT activism in San Francisco began when Harvey Milk entered the political arena. As anti-gay sentiments made their way through San Francisco's Castro District and throughout the city, rights advocates began thinking about ways to work against the discriminatory laws that affected homosexuals. Milk became an important figure for gay rights in the city, and he was elected to the San Francisco Board of Supervisors in 1977—making him the first openly gay person in the U.S. to be elected to a political office. However, less than 11 months later, he and then-mayor George Moscone were assassinated, bringing a temporary end to the hope that had pervaded the Castro District and much of the city.
In response to the assassination, Lawrence Ferlinghetti wrote "An Elegy to Dispel Gloom [After the Assassinations of Mayor George Moscone of San Francisco and City Supervisor Harvey Milk November 27, 1978]." The poem, published in pamphlet form, reminded Bay Area residents in its opening lines:
"Let us not sit upon the ground and talk/ of the death of sanity./ That two sweet men are dead/ is all that need be said."
New Narrative Movement
Activist writing didn't end, of course, with the assassination of Harvey Milk. In the late 1970s and early 1980s, the New Narrative movement brought a group of many openly gay and lesbian poets to the San Francisco scene. Writing sometimes in response to the rise of the AIDS epidemic among the gay and lesbian community and at other times to experiment with language and form, poets like Kevin Killian, Bruce Boone, Dodie Bellamy, and Robert Glück picked up where earlier poets left off.
San Francisco and Berkeley remain sites associated with poetic forms and political activism. Readings take place across the Bay Area; City Lights Bookstore is still going strong; and the Castro District, where Harvey Milk once spoke about civil rights, endures as a center for LGBT resources. And organizations like San Francisco Pride continue to organize events that bring together activists and artists from across the country. While the forms of LGBT activism among poets and writers have shifted across the 20th century, their visions still carry significance in the literary works both read aloud and published throughout the city.