Many major universities maintain a special collections library, either for areas of department expertise or to preserve older books from overuse. However, not all of them are as beautiful as the Beinecke Rare Book and Manuscript Library at Yale University. Thanks to the iconic glass tower of books at the center of the Beinecke, the library is well-known around the world in pictures. It also has a fascinating history and a very noteworthy collection.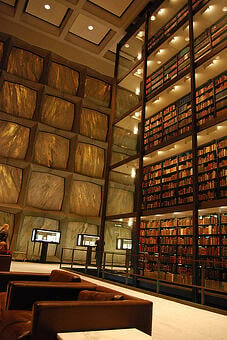 Before building a dedicated library for rare books and manuscripts, Yale already had a modest collection. It was initially housed in the Sterling Memorial Library when it opened in 1930, and among its holdings were a Gutenberg Bible and many items on the American West. The collection continued to grow, and in 1958, the Beinecke family (already great financial benefactors of the Yale University Libraries) donated the money to build a new space.
The new Beinecke Library opened in 1963. It was designed by Gordon Bunshaft with Platonic proportions – 1:2:3 (height:width:length) – to the exterior. The building has no glass windows; rather, wall panels of marble only 1.25 inches thick allow enough light in without damaging the materials. The glass tower, which is completely sealed to preserve the books inside, stands at the center of the library. The library's copy of the Gutenberg Bible is always on display, and other exhibits are rotated in the surrounding floor space.
In 2005, the Beinecke came to the attention of international news. A notorious antiques dealer was caught leaving the library with five maps from valuable manuscripts tucked into his tweed jacket. Edward Forbes Smiley III admitted in federal court to stealing and selling at least 97 rare maps from university and public libraries (even the British Library in London). Almost all of the maps were recovered, and the incident shed light on lax security in many libraries.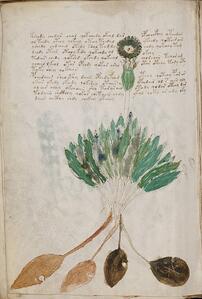 Like most special collections, requests to see materials not on display are granted for academic and research purposes only. However, this applies to anyone, undergraduates and personal researchers alike. The collection is also non-circulating, which means that materials must stay inside the library. Among the most notable items in the collection is the Voynich Manuscript. The document is dated to the early 15th century, written in an indecipherable writing system, and includes many bizarre and fascinating illustrations. Scholars and code-breakers have tried to understand the text for years, but so far remain unsuccessful. Few people get to handle the Voynich Manuscript, but pages have been digitized and made available online.
The library holds the papers and archives of celebrated authors including Edith Wharton, Eugene O'Neill, Gertrude Stein, Langston Hughes, Rachel Carson, Ezra Pound, and many more. After 50 years of serving those hungry for knowledge, the library will close temporarily for some much-needed renovations from May 2015 until September 2016 with the hope that the Beinecke Library will be around for many years to come.