Louisa May Alcott (29 November 1832 – 6 March 1888) was an American writer, feminist, abolitionist, and Civil War nurse. Her name is attached most often to her novel Little Women, but her work encompassed thrillers, adult novels, and theatrical plays, and she wrote many of her early novels under the pseudonyms Flora Fairfield and AM Barnard.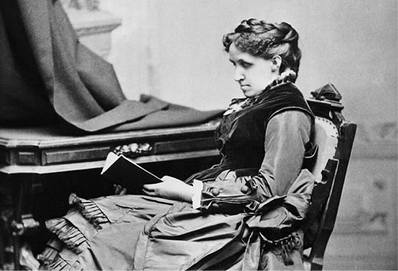 Childhood Poverty and Brilliant Teachers
Born to educator/philosopher Amos Bronson and social worker/activist Abigail May, Alcott grew up surrounded by intellectual and literary giants such as Ralph Waldo Emerson, Henry David Thoreau, Nathaniel Hawthorne, and Theodore Parker. Her family was poor but happy, and Alcott and her three sisters enjoyed an unconventional upbringing by parents who believed in freedom, imagination, and an individualized approach to learning. Her parents were early transcendentalists who advocated a vegan diet and attempted a Utopian community called Fruitlands, which was later chronicled in Alcott's novel Transcendental Wild Oats (1873). Despite plenty of passion and good intentions, the family was deep in debt and the second Alcott daughter vowed to do any work necessary to relieve her parents and sisters from poverty.
Alcott began writing as a teenager and eventually moved to Boston, taking jobs as a tutor, seamstress, governess, and writer, living frugally and sending her earnings home. In her 20s she wrote many poems and short stories, helped develop the theatre in Boston and Concord, and even published her first book, Flower Fables (1849). But Alcott did not break into success until after her short service during the Civil War and a year-long trip to Europe. Upon her return to Boston, she accepted a position as editor of Merry's Museum, a popular girl's magazine. After some success as the magazine's major contributor, Alcott gave in to her publisher's encouragement to write a book for young girls. A year later, Little Women (1868), set in Civil War New England and based on the lives of four sisters, sealed her fate as a children's writer.
Activism in America
Though she would have preferred to write more thrillers and serious work, Alcott found that children's tales supported her family and eventually pulled them completely out of poverty. During this time, Alcott balanced her lucrative talent with her non-profit passion. She worked as an advocate for women's rights and suffrage, attending the Women's Congress of 1875 and contributing often to the Women's Journal. She also organized women to vote in Concord and spoke out against poor hospital conditions and slavery still existent at the time.
Spinster Motherhood
She watched happily as her sisters were wed and offered support when Abby was widowed, but Alcott never married herself. She confessed in an interview, "I am more than half-persuaded that I am a man's soul put by some freak of nature into a woman's body... because I have fallen in love with so many pretty girls and never once the least bit with any man." When her beloved sister May died in 1879 from infection and fever following childbirth, Alcott adopted her daughter Louisa, nicknamed Lulu. She raised Lulu throughout troubles with her own health until her death on March 6, 1888, just two days after her father passed.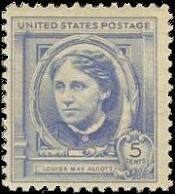 Louisa May Alcott left the copyrights of her work to Lulu and the only surviving Alcotts, sister Anna and her two sons, John and Fred. She was buried in Sleepy Hollow Cemetery in Concord, Massachusetts. Alcott is remembered as a preeminent author in American literature, and her contributions have been commemorated on a US postage stamp (at right). Alcott's home, Orchard House, still stands in Boston.