Madeleine L'Engle was born on November 29th 1918 in New York City. Her prolific output of over sixty books, journals, and anthologies has transcended the genres in which they were written, as well as generations. While she is widely regarded as an author of children's books, L'Engle exhibited a tremendous literary range, writing fiction for adults, books of poetry, plays, and religious meditations, as well as memoirs of her family. Almost all of her works were deeply personal, rooted in her life and beliefs.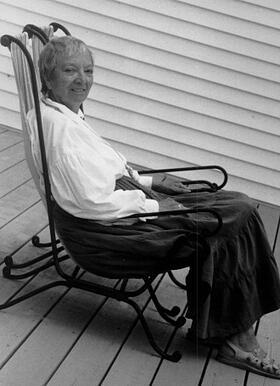 L'Engle began writing as a small child. Her first story was said to have been written at the age of five. She then began her journal at the age of eight. Despite her love of the written word, L'Engle was not a model student. She shied away from her academics in favor of writing or reading a good book. As a result of her parents' disagreements over how to best educate the young Madeleine, she attended a number of boarding schools from New York to Switzerland and back to South Carolina. Upon finishing high school, she attended Smith College, where she graduated with a degree in English with honors. Afterwards she returned to New York City, moved into a Greenwich Village apartment, and began work in the theater. During this time L'Engle wrote and published her first two novels, A Small Rain and Ilsa, and met and married her husband, actor Hugh Franklin.
Following their marriage and the birth of their first child, L'Engle and Franklin moved to Crosswick, Connecticut where they had another child, adopted a third, and ran a small village general store. During this time L'Engle was always writing. She described her method of writing as being similar to the way a peasant French woman cooks. She drops a carrot in one pot, a piece of potato in another, and an onion and piece of meat in the third. "At dinner time, you look and see which pot smells best and pull it forward." While L'Engle was writing one book, there were always two to three on the back burner. Meet the Austins, was being published while she was fine tuning her most well-known book, A Wrinkle in Time.
A Wrinkle in Time – for which she won the Newbery Award--was rejected over 26 times before finally being published. It was originally written for an adult audience, delving into scientific theories pulled straight from Einstein. However, many publishers said the book was too difficult, and no child could possibly handle plot twists filled with quantum physics, fractions, multiple languages and religion. However, publisher Farrar, Straus and Giroux bought the book, and despite one of their readers declaring it "one of the worst books I have ever read", they gave it a go.
This work is a work of fiction so replete with fantasy and religions that the book has both been heralded by churches for the religious foundation and simultaneously has been one of the most banned books in the United States. Religious conservatives have had the book banned for what they have deemed its inaccurate portrayal of God and the fact that it nurtures in young children a belief in myth and fantasy. L'Engle, who is a deeply religious woman, was at first aghast at this reception and criticism, but in the end decided she knew what she believed, the people – both young and old- who read her books know what they believe, and in the end it is nothing but great publicity. Today there are more than 10 million copies of the book in print.
After A Wrinkle in Time, L'Engle would return to continue the stories of many of her greatest characters from the O'Keefs of Wrinkle, to the Austins and back to where they intersect at A Ring of Endless Light. She also wrote numerous autobiographical works, which were part journal part explorations of faith. However, it should be noted, as a memoirist L'Engle believed in the idea of "story as truth," which meant that frequently the distinction between fiction and actual events became blurred in her works.
Ms. L'Engle passed away on September 6th, 2007 at her home in Connecticut. Her works continue to inspire readers--particularly young ones--around the world.