Many of us have never been fly fishing, have never enjoyed the silence of a morning spent quietly on the banks of a river – just you, your pole, and nature. Those who have know that there is something that is beautiful beyond words in the quiet cast of the lure and the technique involved in casting the perfect line.Part of the beauty of fly fishing comes from the incredibly detailed and intricately tied flies. One of the most impressive and aesthetically gifted salmon fly tyers of all time was a man name Major John Popkin Traherne.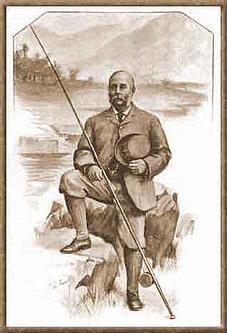 Traherne was born on August 28, 1826 as the heir to an estate in the United Kingdom. Despite this status, he enlisted in the military and served until 1859. During his time in service Traherne also worked as a justice of the peace, Deputy Lieutenant for his county, and eventually High Sheriff.
Despite his many ventures, Traherne found his true love in the rod and line. He caught his first salmon in 1850 and was officially "hooked." For years Traherne held the world record for the longest cast, at 45 yards and one inch. Additionally he held a record for catching 165 fish in fifteen days on the Namsen in 1864.
Throughout the 1870s, '80s, and '90s Traherne contributed heavily to the Fishing Gazette, Land and Water, and The Salmon Fly. It is these contributions which are represented in the amazing and highly sought after work The Salmon Flies of Major John Popkin Traherne (1826-1901): Their Descriptions and Variations as Presented by George M. Kelson in the Fishing Gazette, Land and Water and The Salmon Fly by Paul Schmookler.
Traherne's patterns were and are considered masterpieces. Today, the flies used have graduated to artificial flies made of all manner of natural and synthetic materials such as mylar and rubber. However, in Traherne's day, his flies may have as many as fifty different feathers to make up their works of art.