Caldecott Award-winning illustrator, John Robert McCloskey, was born September 15, 1914 in Hamilton, Ohio. At an early age he exhibited a love for music - learning the piano, drums, harmonica, and oboe. Later, he developed a unique interest in mechanics and electrical devises. However, all else was forgotten when he began to draw pictures for his school paper.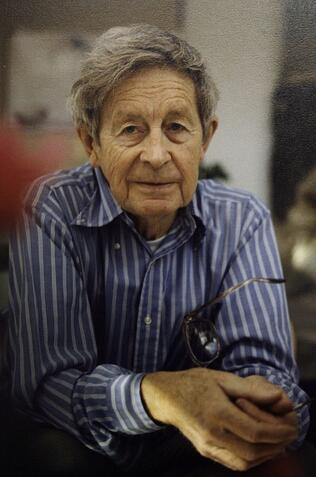 McCloskey's illustrations awarded him a scholarship to the Vesper George Art School in Boston, Massachusetts. While living in the city, he often fed the ducks at the Boston Public Garden, a pastime he remembered fondly as an adult. After graduating from Vesper George, he continued his education at the National Academy of Design in New York City. Although his art was exhibited by the Tiffany Foundation and at the Society of Independent Artists in Boston, his work never achieved great success and he began to consider an occupation in commercial art.
In 1935, McCloskey visited New York while on spring break. During his visit, he arranged a meeting with May Massee—a children's book editor at Viking Press. He left Massee's office with a positive vision and returned three years later with a draft of his first book, Lentil.
Inspired by his own childhood, Lentil is the story of a boy who learns to play the harmonica. The boy cannot whistle, let alone sing, and instead practices the harmonica everywhere he goes - including in the bathtub. Lentil was published in 1940, opening the world of children's literature to McCloskey. That same year, McCloskey married Margaret Durand, children's librarian and daughter of Newbery Medal-winning author, Ruth Sawyer.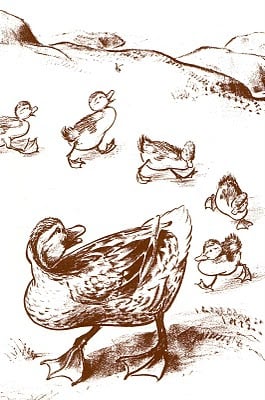 McCloskey continued to draw inspiration for his work from his surroundings and before long, he began work on Make Way for Ducklings. He said, ''I had first noticed the ducks when walking through the Boston Public Garden every morning on my way to art school. When I returned to Boston four years later, I noticed the traffic problem of the ducks and heard a few stories about them. The book just sort of developed from there."
In order to completely observe them and capture their movements, he purchased a few ducks from a local poultry dealer. He spent weeks watching and sketching them as they waddled around his studio. Once he perfected his drawings of the ducks, he returned to Boston to bring his story alive with buildings, bridges, and parks. His hard work paid off when the book was awarded the Caldecott Medal in 1942.
In the mid-1940s, McCloskey worked in the United States Army, as a technical sergeant where his artistic talents were applied in a more practical way—creating pictures for Army training manuals. During his time in the Army, McCloskey still found time for his children's writing and illustrations, publishing Homer Price in 1943. Homer Price tells the story of a young boy fascinated with mechanics who has numerous adventures and fixes many broken objects. McCloskey's book received a great deal of admiration—so much so that he published a sequel in 1951 titled, Centerburg Tales.
Following his time in the military, McCloskey and his family moved to Maine where he continued to live until his death. His next two publications were inspired by his two daughters, Sally and Jane: Blueberries for Sal (1948) and One Morning in Maine (1952). In 1958, McCloskey made history by becoming the first person to win two Caldecott Awards after the publication of his seventh book, Time of Wonder (1957).
Robert McCloskey passed away on June 30, 2003 after fighting a long-term illness. Even now, over a half century after his books were first published, McCloskey's books continue to be read and loved by children the world over.