It's hard to overstate the influence of Mark Twain. Ernest Hemingway once wrote, "All modern American literature comes from one book by Mark Twain called Huckleberry Finn," and many critics now cite this work as the first "Great American Novel."
While the majority of those in the English-speaking world have heard of Mark Twain, and his two most famous novels, The Adventures of Tom Sawyer and Adventures of Huckleberry Finn, they may not know as much about this classic American author as they may think. To start with, Mark Twain is not even his real name.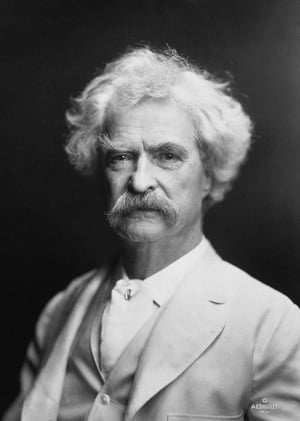 Samuel Langhorne Clemens was born on November 30th, 1835 to Jane Lampton and John Marshall Clemens. He was raised on the Mississippi River in Hannibal, Missouri. The culture and landscape of his childhood provided ample inspiration for the settings he'd later create in his novels.
Twain's family experienced many hardships during his youth. Before entering his teen years, Twain had faced the death of two siblings and his father. This left his remaining family in a rough financial state. To help out, eleven-year-old Twain dropped out of school and took his first job as a printer's apprentice at the Hannibal Courier. While Twain did not develop a passion or respect for journalism, he did begin experimenting with creative writing at this time. His first short story, A Gallant Fireman, was published when he was 15 years old.
Twain, always captivated by the Mississippi River, determined that he wanted to work on a steamboat after meeting pilot Horace E. Bixby during a voyage down to New Orleans. After two years of study and work, Twain earned his steamboat pilot license in 1859.
Time on the river lived up to Twain's high expectations. Later he would describe the Mississippi by saying, "The face of the water, in time, became a wonderful book—a book that was a dead language to the uneducated passenger, but which told its mind to me without reserve, delivering its most cherished secrets as clearly as if it uttered them with a voice. And it was not a book to be read once and thrown aside, for it had a new story to tell every day."
Even the pen name, Mark Twain, was born of the Mississippi River, where riverboatmen would cry out "by the mark twain!" to indicate the depth and safety of the water. But it was not the only pen name Twain used during his lifetime. He sometimes signed his letters "Thomas Jefferson Snodgrass," and he attributed his earliest sketches simply to an anonymous "Josh."
When the Civil War put a halt on river trade, Twain returned to newspapers to make his living. He began as a journalist, but a popular short story printed in the New York Saturday Press helped him make a name as a fiction writer. He published his first book, The Innocents Abroad, in 1869, followed by The Adventures of Tom Sawyer two years later.
By the time of his death in 1910, Twain had written 28 books and left behind many short stories and letters that are still studied and enjoyed today. His work ranges from humorous, lighthearted tales to serious commentaries on social issues and the injustices of his time. When it came to blending entertainment with didacticism, Twain was a master who inspired many future American novelists to follow in his footsteps.
Selected Mark Twain Titles
Adventures of Huckleberry Finn

Marvel at Mark Twain's famous tale in this stunning limited edition with 49 wood engravings. This is only one of four known sets where artist Barry Moser signed all prints. Details>>

The Jumping Frog

This edition represents the first separate publication of The Jumping Frog, save for a note at pp 64- <66>. This just about Fine first edition with the elusive Near Fine dust jacket comes in a custom-made, 1/3 leather, cloth double slipcase, with just a minor chip on the bottom of the spine. It's tough to imagine a nicer copy could be found. Details>>

A Connecticut Yankee in King Arthur's Court

This is a bright first printing of the first edition in Fine condition in the original green cloth with white end papers imprinted in yellow-green floral pattern, fly-title on page <1>, later state without S-like ornament between the two word caption on page 59 [BAL 3429]. Broken types on page 341. Housed in custom made slipcase and box in Fine condition. Details>>

Queen Victoria's Jubilee

A very handsome unrestored first and only edition in book form, Queen Victoria's Jubilee was privately printed and limited to only 195 copies, of which this is 111. The title-leave is printed on lightly calendared endpaper; otherwise printed on laid paper watermarked "Enfield S. Co. 1887." A rare and desirable item. Details>>

Sketches, New and Old

A first edition/second state edition of this book in original publisher's 1/2 morocco leather binding with gilded pages and peach endpapers is relatively scarce. With only a little staining from binder's glue, this book is in Near Fine condition. Without the non-Twain sketch "Hospital Days." Details>>

Is Shakespeare Dead?

This most attractive first edition/first state copy is in just about Fine condition with top edges gilt and the scarce original dust jacket. A first state copy, it's without any inserted leaves pertaining to Greenwood's "Shakespeare Problem Restated." Details>>