When you think of a great read, you probably don't think about mountaineering, but Maurice Herzog's account of his climb of Annapurna, the world's tenth highest peak, is acclaimed as one of the best sports books ever written. It's also the bestselling mountaineering book ever written and figures prominently into many a sports- or mountaineering-focused collection.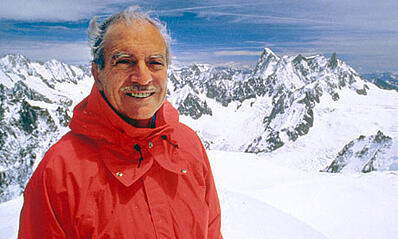 Maurice Herzog was born on January 15, 1919 in Lyon, France. He was hailed as a hero in France when he and fellow climber Louis Lachenal became the first climbers in modern history to summit a peak over 8,000 meters when they reached the summit of the Himalayan mountain Annapurna on June 3, 1950. Even today, this is considered a remarkable feat because the explorers had to reconnoiter and climb within a single season; they also completed the climb without any supplemental oxygen and in a single attempt. This climb was sensational throughout Europe, and was only trumped when Sir Edmund Hillary and Tenzing Norgay summited Everest in 1953.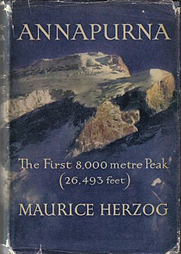 The climb itself was not without event, however. Upon reaching the summit, Herzog took off his gloves to take a picture, which would spur on tremendous magazine sales regarding the climb. Moments later he watched, horrified, as his only pair of gloves began their slide down the face of the mountain. The personal costs for both Herzog and Lachenal were tremendous. The retreat from Annapurna's summit was both long and horrific. Due to light leather shoes, missing gloves, insufficient sleeping bags, and wandering lost and confused in an all-out white-out storm, it took Herzog and his team six weeks to reach home. By that point his feet were blackened and filled with maggots. He lost his fingers and toes and would never undertake mountaineering again.
Annapurna: The First Conquest of an 8,000 Meter Peak is Herzog's account of what took place on the trek up and down 28,545 feet of Himalayan mountain. He wrote the book while he lay recuperating from his traumatic injuries in the American hospital at Neuilly-sur-Seine, on the outskirts of Paris. He spent months lying in the hospital convalescing, and it perhaps only his cathartic retelling his story which in the end saved him from the deep depression that followed his career-ending injuries.
While his is a story of heroics and harrowing triumphs, it is not without controversy. At the time of publication, it was heralded for bringing respect back to post-war France. But in recent years, the biography of his climbing partner Gaston Rebuffat, the diaries of Lachenal, and even a tell-all by Herzog's own daughter have painted both Herzog and the ascent of Annapurna in a very different light. Herzog's daughter, Felicite depicts her father as megalomaniac who "rewrote history, betrayed and neglected his entourage without ever having the sense of hurting anyone because society judge him to be so good."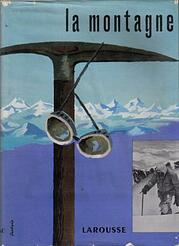 In the 2000 work by alpinist David Roberts True Summit: What Really Happened on the Legendary Ascent of Annapurna, Herzog is painted as a glory hog who would obscure the achievements of any and all for his own--in particular Lachenal whose diaries were often in direct conflict with Herzog's book.
Despite this conflict, Herzog's Annapurna and his 1956 guide to mountaineering, La montagne, are both beloved works. They're often considered centerpieces to rare book collections focused on biography, sports, mountaineering, or adventure.