From modern-day dinosaurs to soapy hospital dramas, Michael Crichton is probably the creative mind behind at least one of your favorite guilty pleasures in novels, movies, or television shows. In 1994, he became the first writer to have his work land at number one in film, television, and book sales all at the same time. His most well-known creations – Jurassic Park and "ER" – reflect the frequent genres and themes he chose: action, science fiction, medicine, and biotechnology.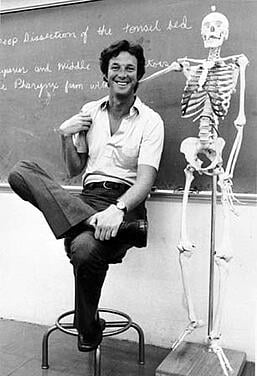 Born on this day in 1942, Michael Crichton was immediately introduced to a world that valued writing. His father, John Henderson Crichton, was a journalist in New York. Crichton showed an interest in following in his father's footsteps early on. He landed a travel column in the New York Times at the young age of fourteen.
It's no surprise that much of Crichton's work falls into the arena of science. He began his professional life as a doctor and researcher. Although he initially planned to study literature during his time as an undergraduate at Harvard, he switched to biological anthropology after becoming suspicious that an English professor was giving him unnecessarily low grades.
Crichton excelled in his new concentration, graduating summa cum laude and going on to receive his MD from Harvard Medical School. He was a postdoctoral fellow at the Salk Institute for Biological Studies, and he taught at Cambridge University and MIT.
The Andromeda Strain, Crichton's first bestseller, was published while he was still a medical student. The book also earned him the Edgar Award for Best Novel in 1969. From there, Crichton's success as a writer occurred quickly and without precedent. He sold over 200 million books, thirteen of his books were adapted for the big screen, and his works can be found in 38 different languages.
Crichton's talent eventually expanded beyond novels, as he found himself creating screenplays for film and television. His long-running television show, "ER," won him several awards, including a Peabody, an Emmy, and a Writer's Guild of America Award.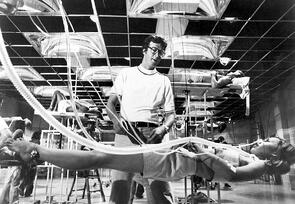 No matter what creative medium Crichton used for his storytelling, he often explored the theme of scientific advancements gone awry. Whether this resulted in unmanageable dinosaurs coming to life in modern day, or dangerous technologies falling into the hands of power-hungry politicians, a message was always left behind: that research, discovery, and invention must be conducted carefully and responsibly.
Although some critics complained about too much moralizing and a lack of characterization in Crichton's works, the New York Times' obituary summed it up best when it said, "Even his severest critics, however, confessed to being seduced by his plots and unable to resist turning the pages, rapidly." Crichton beheld an undeniable talent for storytelling that captured the imagination of a global fan base.