"Those big-shot writers could never dig the fact that there are more salted peanuts consumed than caviar." Mickey Spillane
For a writer, one of the most depressing literary pantheons is the "books written in a matter of weeks" category. This includes such classics and arguable classics as Faulkner's As I Lay Dying (1930, written in six weeks while the author worked as a security guard), Jack Kerouac's On the Road (1957, written in three weeks on a 120 foot long roll of paper), and Kazuo Ishiguro's The Remains of the Day (1989, written in a 28 day "crash" during which time he didn't see anyone, answer any mail, answer the phone, etc.). While not a classic by anyone definition, Dostoevsky's The Gambler (1866) was written in about a month in order to pay off a gambling debt. Also on that list is hardboiled mystery writer Mickey Spillane's 1947 first novel, I, the Jury—which marked the debut of the iconic private eye Mike Hammer.
The story goes like this. In 1947, Spillane had recently gotten back from his service in WWII, and was hoping to rustle up about $1,000 to buy a tract of land for himself and his first wife (whom he would divorce in 1962). He decided that the easiest way to get some quick cash would be to write a novel—and it turned out he was right on the money. Within 19 days he had written the entire book, and though his publishers didn't think much of his prose stylings, they were willing to take a chance on something that seemed so well aligned with the erstwhile marketplace.
The book sold 6.5 million copies, was adapted for the screen multiple times, and marked the beginning of a long career for a prolific, and often iconoclastic, crime novelist.
Spillane: An Origin Story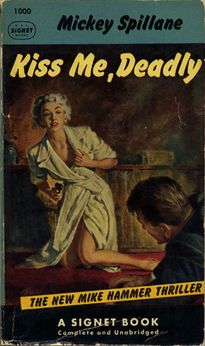 Of course, I, the Jury wasn't the first time Spillane had sat down at a Smith Corona and attempted to earn a living. Though he mostly held a series of odd jobs early in his life (including everything from lifeguarding to working as a trampoline artist for the Barnum and Bailey Circus), he had tried his hand at writing off and on throughout high school. In the early '40s he wrote dozens of short stories that were meant to work as filler content in comic books.
Though comics didn't wind up being his primary medium, it's not hard to see the influence they had on his way of crafting characters and stories. To wit, Mike Hammer was originally conceived as a comic book hero called Mike Danger—a character who seemingly felt right at home between the pulpy covers of Spillane's paperbacks, fighting cartoonish villains with the same kind of graphic violence comic book audiences had come to expect.
The Ayn Rand Connection
Spillane followed up the success of his first novel with a long string of Mike Hammer novels, including Kiss Me, Deadly (1952) and The Killing Man (1989), as well as a handful of unrelated titles like Tomorrow I Die (1984) and The Delta Factor (1967). While they would continue to enjoy considerable commercial success, their plain style and often violent content didn't tend to sit well with critics. His works were variously referred to as "atrocious" and "nauseating," while his most famous creation was called a "homicidal paranoiac" by Malcolm Cowley, who called Spillane himself "a dangerous paranoid, sadist, and masochist." One notable exception to this general revulsion amongst the literary crowd was Ayn Rand. The author of 1943's The Fountainhead and 1957's Atlas Shrugged (both of which are platforms for disseminating Rand's "Objectivist" philosophy, which calls for prioritizing self interest above all else) was a fan of his style, and seemingly appreciated his Manichean moral worldview. The fact that he was virulently anti-communist probably didn't hurt either—and probably made it easier for Spillane to appreciate Rand's writing, which he was an avowed fan of.
For Spillane's part, he seemed untroubled by his critics. "This is an income-generating job," he said of his writing, and it certainly did generate income. Eventually, he would gain some respect from other mystery writers (including lifetime achievement awards from the Mystery Writers of America and the Private Eye Writers of America), but mostly he lived his life as if the critics didn't exist. He churned out novels and stories, and he even acted in a number of mystery films and TV shows—including a Mike Hammer adaptation in which he played the titular detective. He also played a murdered mystery writer on a 1974 episode of Columbo, and appeared in some Miller Lite ads.
Maiku Hama: Spillane's Legacy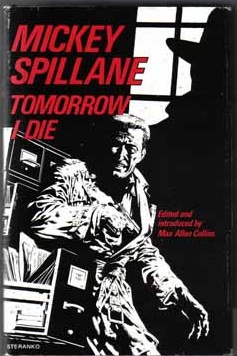 Whatever the critics thought of him, Mickey Spillane wound up with an estimable legacy. He would help to define the hardboiled detective genre as we understand it today, and many of his books were adapted into classic films that were easily as impactful as the books (1955's Kiss Me Deadly in particular comes to mind). Copies of I, the Jury pop up in strangest pop culture locales, from a Judy Blume novel to an episode of Hey Arnold (in which Arnold's grandfather suggests he lay off reading the book until he's 10). There was even a series of pulpy action movies in Japan featuring detective "Maiku Hama," an obvious homage to Mike Hammer. Spillane may not have been pedigreed, but his influence was truly global.
A few years after his death in 2006, his adopted hometown of Murrells Inlet, South Carolina even named a stretch of highway after him—offering a modicum of respect that most establishments declined to give him during his actual career. Still, it's hard to get up in arms on behalf of someone who seemingly accomplished his worldly goals and then some. He made a handsome living writing books, he crafted some beloved mystery stories, and his influence can be seen virtually any time a tough, morally-flexible P.I. shows up in a book or movie. Not bad for someone who only spent three weeks writing his first novel.