Maycomb County is a small, unassuming town, nestled in the state of Alabama. Many of us have been there (I myself have visited several times throughout the years) to check in on the beloved Finch family. When Harper Lee's fictional southern story, To Kill a Mockingbird was published in 1960, the reception was quite positive. Readers and critics alike praised Lee's eclectic characters and important life lessons. Let's take a look at some of these positive reviews while also addressing the later change in tune regarding this seminal work.
Praise for To Kill a Mockingbird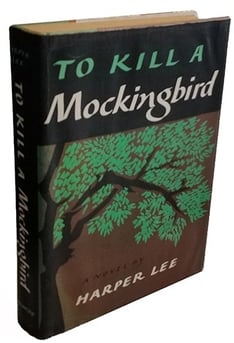 In its first review of the novel on August 1, 1960, a portion of Time Magazine reads as follows:

"Lee, 34, an Alabaman, has written her first novel with all of the tactile brilliance and none of the preciosity generally supposed to be standard swamp-warfare issue for Southern writers. The novel is an account of an awakening to good and evil, and a faint catechistic flavor may have been inevitable. But it is faint indeed; Novelist Lee 's prose has an edge that cuts through cant, and she teaches the reader an astonishing number of useful truths about little girls and about Southern life."
Likewise, on October 15, 1960, Kieth Waterhouse for the New York Statesmen wrote:
"The innocent childhood game that tumbles into something adult and serious is a fairly common theme in fiction, but I have not for some years seen the idea used so forcefully.... Pretty soon we are in the adult game, based on the same fear and fascination of the dark: the ugliness and violence of a Negro's trial for rape and the town's opposition to the children's father for defending him. Miss Lee does well what so many American writers do appallingly: she paints a true and lively picture of life in an American small town. And she gives freshness to a stock situation."
The Chicago Tribune issued the following comment in its July 17, 1960 review of Lee's efforts: "To Kill a Mockingbird is a first novel of such rare excellence that it will no doubt make a great many readers slow down to relish the more fully its simple distinction..."
Like these reviews, most initial responses to Lee's book were overwhelmingly positive. Lee effortlessly charmed the literary world with her story, and it quickly grew to be an American classic.
Mixed and Lackluster Reviews
However, with popularity inevitably comes skeptics, and the case of To Kill a Mockingbird is no exception. Flannery O'Connor once dryly stated "For a children's book, it does alright" and Frank H. Lyell of the New York Times Book Review wrote:
"The praise that Miss Lee deserves must be qualified somewhat by noting that oftentimes the narrator's expository style has a processed, homogenized, impersonal flatness quite out of keeping with the narrator's gay, impulsive approach to life in youth. Also, some of the scenes suggest that Miss Lee is cocking at least one eye toward Hollywood..."
Criticism has followed the book into the 21st century, with some even posing the argument that Atticus Finch is actually a racist (partially inspired by the release of Go Set a Watchman), and not the upstanding moral character we have understood him to be. One such example used to support this notion is that Atticus is assigned to defend Tom Robinson, he doesn't volunteer. We've written about and discussed our take on Go Set a Watchman before. If you're interested in reading more on that topic, you can click here.
While everyone is entitled to their own opinion on Harper Lee's work, I will always side with those who praise To Kill a Mockingbird. In the pages of this book I discovered a second home, a dear friend, and a love of reading. For those priceless gifts, To Kill a Mockingbird will always have a special place in my heart.