Many readers of twentieth-century literature are familiar with the works of Native American novelist N. Scott Momaday. A writer of Kiowa and Cherokee ancestry, Momaday was born in Lawton, Oklahoma at the Kiowa-Comanche Indian Hospital to Natachee Scott and Alfred Morris Momaday. In 1963, N. Scott Momaday received a Ph.D. in literature from Stanford University, and shortly thereafter, his novel House Made of Dawn (1968) won the Pulitzer Prize for Fiction. Many critics cite House Made of Dawn as the beginning of what scholars and critics have described as the "Native American Renaissance," referring to the (re)emergence of native American voices and narratives in fiction. In 1969, Momaday published The Way to Rainy Mountain, a text that introduced readers to Kiowa folklore and, in many respects, familiarized readers with his father's illustrations. Since the late 1960s, Momaday has written numerous works of poetry, memoir, fiction, and scholarship.
Yet what many readers who are well-acquainted with Momaday's literary output don't know is that his parents, Natachee Scott Momaday and Al Momaday, were also prominent writers and artists.
Momaday's Father as a "Great Storyteller"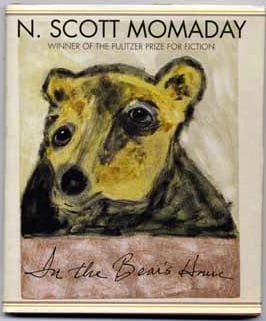 In a PBS interview*, N. Scott Momaday described his father as "a great storyteller," emphasizing how "he knew many stories from the Kiowa oral tradition." Momaday went on to explain how his father, Al Momaday, "told me many of these stories over and over because I loved them. But it was only after I became an adult that I understood how fragile they are, because they exist only by word of mouth, always just one generation away from extinction. That's when I began to write down the tales my father and others had told me."
The stories Momaday heard from his father and others developed into—at least in part—the set of stories collected in The Way to Rainy Mountain (1969). The first edition of the book was published by the University of New Mexico Press, and it featured illustrations by Al Momaday. In particular, Al Momaday depicted Devils Tower National Monument, a rock formation in Wyoming. As the National Parks Service explains, Devils Tower is "an astounding geologic feature that protrudes out of the rolling prairie surround the Black Hills," and it is a site that is "considered Sacred to the Lakota and many other tribes that have a connection to the area." For N. Scott Momaday, the formation is central to the Kiowa (as well as his own) origin story in The Way to Rainy Mountain.
Yet illustrations in this text are not the only works of art for which Native American artist Al Momaday has become famous. His prints and paintings are owned by a wide variety of art museums across the country, and he has created several altar plaques in churches in Albuquerque, New Mexico. In 2015, a box containing seventy-two Al Momaday prints, valued at $33,000, was found in a condemned building in Albuquerque, according to an article** from Indian Country Today Media Network. The prints likely were stolen, but they have since been returned to the Momaday family.
Natachee Momaday's Children's Books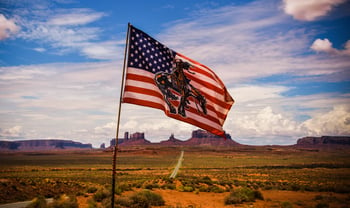 In addition to Al Momaday's paintings, prints, and book illustrations, N. Scott Momaday's mother, Natachee Momaday, was also a creative force. In addition to prints and paintings, Natachee Momaday wrote children's books. Her most notable children's book, Owl in the Cedar Tree (1965), has become extremely collectible. Published by Ginn and Company with illustrations by Don Perceval, the book tells the story of a young Navajo boy. Relatively few first editions exist, and you'd be lucky to find a signed copy for your collection.
N. Scott Momaday's parents were not just artists and writers, but they were also important educators. They taught for decades at the Jemez Day School on the Jemez Pueblo, and they helped to develop a model of education in which Native American cultural traditions, such as the Feast of San Diego, remained central to daily life.
If you haven't yet read any of N. Scott Momaday's works, we recommend rushing out to your nearest bookstore. And if you're interested in the relationship between his own creativity and his parents' involvement in the worlds of art and education, you should pick up Momaday's memoir, The Names: A Memoir (1976).
*For the full PBS interview, click here. **Read the full article here.