The past is never dead. It's not even past. -William Faulkner, 1951
While Faulkner could sometimes be cryptic, this quote seems easy enough to grasp. After all, if the past were really past, why would we read so much historical fiction? Hardly the sole purview of trashy paperback enthusiasts and Civil War reenactors, historical fiction has held a distinguished place in literary history for centuries. It stretches back to the famed 16th Century poet Sir Walter Raleigh and continues through to contemporary authors like Hilary Mantel. Between these two, the legacy of historical fiction makes another notable stop with Nobel Prize-winning author Henryk Sienkiewicz.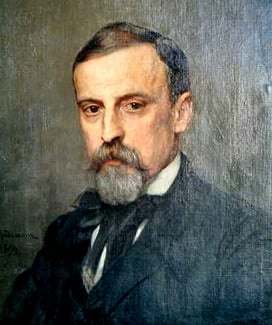 Henryk Sienkiewicz was born in Poland in 1856 to a poor but well-bred family. While he was never an exceptional student, he excelled in Polish language and history, even undertaking an extensive study of the Old Polish language. Following a few thwarted attempts to go into more prestigious fields like law or medicine, Sienkiewicz began his career as a journalist, writing a series of travel essays for the Polish Gazette in exchange for travel expenses. It is, perhaps, by dint of having become so well traveled (his work took him to Brussels, Paris, Nevada, London and elsewhere) that he began to undertake his transition from short writings to long, historical novels. For if, as they say, the past is a foreign country, who but a world traveler might be best suited to tackling historical fiction? Whatever the reason, Sienkiewicz proved more than equal to the task, quickly becoming one of Poland's most popular authors.
After a lengthy period of sustained commercial and critical success, Sienkiewicz eventually came to write and publish his most enduring work, Quo Vadis (1895). A story of star-crossed lovers set in the Roman Empire, Quo Vadis depicts the great pains Sienkiewicz went to in order to craft a historic portrait of Christian resistance under Roman emperor Nero. Though it endeavors to draw a parallel between the persecution of the early Christians and the plight of the Poles (Poland was conquered and re-conquered at an alarming rate during Sienkiewicz' lifetime), its most forceful thematic maneuver may be its rebuke of materialism. Ultimately, its portrayal of the triumph of the Christian, and by extension Polish, spirit, proved sufficient, not just to earn wide readership and critical acclaim, but to attract the attention of a then-just forming Nobel committee. In fact, so obvious did Quo Vadis make Sienkiewicz's Nobel-victory, that the committee's only words of explanation were: "because of his outstanding merits as an epic writer."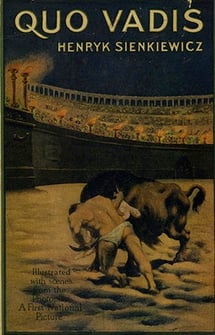 If Sienkiewicz's well-earned acclaim is proof of anything, it's that, as per Faulkner's dictum, the past and the present are two inseparable strands that exist simultaneously within the minds of the people. While that is certainly more than enough for any one book to do, Quo Vadis is further notable for bringing the past and present into conversation with the future. It's not exactly that the book is prescient in any way, but rather that it's Roman setting puts it automatically into conversation with future works whose existence Sienkiewicz could have only guessed. Later significant novels that deal with Ancient Rome, like Robert Graves' I, Claudius (1934) and John Williams' Augustus (1972) differ from Quo Vadis in language, contemporary politics, and philosophical outlook, but they share in their setting an inescapable connection. The shared historical settings of these novels gild them not just with a spirit of universality, but also allow them to share the unshareable. Taken in tandem, the works of Graves, Williams, and Sienkiewicz form a triple lens by which we might see not just our own time and place but the time and place of each author, with previously impossible clarity. When the Nobel committee talks about praising writers for their idealism, one hopes that this is what they mean.