It's hard to imagine the thoughts and feelings of those persecuted by Nazi Germany during the Second World War; it is even harder to understand one who would embrace Nazi atrocities. Knut Hamsun was a Norwegian novelist and poet who was honored with the 1920 Nobel Prize for Literature. He published over 20 novels, as well as short stories, plays, and a poetry collection. In addition to being a groundbreaking writer, Hamsun was also a Nazi sympathizer.
Hamsun was born August 4, 1859 in Lom, Norway, to Peder Pederson and Tora Olsdatter. His parents struggled to support their seven children; at the age of nine, Hamsun was sent to live with his uncle and work at his post office. His uncle was abusive to the young boy—often beating and starving him. The mistreatment Hamsun suffered in childhood significantly impaired his mental health for the rest of his life.
As an adolescent, Hamsun escaped and ran back home. There, he worked any job he could find in order to make money. He began writing at the age of 17, and published his first book before turning twenty: The Enigmatic Man: A Love Story from Northern Norway. His second novel, Bjørger, was published the following year under the pseudonym Knud Pedersen Hamsund. During this time, he continued to live in poverty, travel, and work odd jobs.
Finally in 1890, Hamsun published a novel that transformed his literary career and life. Hunger is loosely based off of his time spent as a starving artist. The book is divided into four sections and written in a "stream-of-consciousness" style that has become common in more modern works of literature. His nameless protagonist lives on the streets of Christiana, Oslo; always in search of food, shelter, and a job. Hamsun effortlessly takes his audience on a journey, exposing them to the realities of hopelessness, hunger, and art. The novel was an instantaneous success.
While his novels Pan (1894) and Mysteries (1892) are similar in content—illustrating a first-hand account of a lonely and rootless protagonist—his later writings express a unity with nature and an appreciation for simple living. His most famous novel from this period, The Growth of Soil (1917) tells the story of an older, reserved man and his life experiences, which Hamsun expresses with deep emotion. His writing called attention to post-World War II culture--vast industrialization and absence of cultural values--in a way that appealed to many during the era of reconstruction. In 1920, Knut Hamsun was awarded the Nobel Prize in Literature for his literary achievements.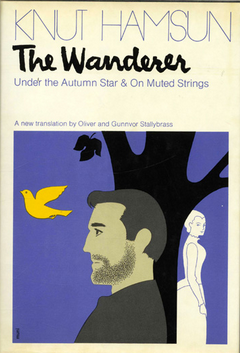 Despite Hamsun's honors and acclaim, his popularity declined with the onset of World War II. Hamsun publicly voiced his support of the Nazi Party and privately met with Adolf Hitler many times. He even gave his Nobel Prize to Joseph Goebbels, Nazi propaganda minister. Following Hitler's death in 1945, Hamsun released a short obituary in his honor, claiming "he was a warrior, a warrior for mankind, and a prophet of the gospel of justice for all nations". Needless to say, his article infuriated many and Hamsun was consequently charged with treason, sent to prison, and fined.
Hamsun's punishment was soon void, however, and he was sent to a mental institution for "mental incompetence" due to old age. Yet, his later writings suggest that his mental state may not have been so fragile. He passed away on February 19, 1952.
Although Hamsun died in disgrace, history has begun looking past his political beliefs for the sake of his writing. Authors such as Ernest Hemingway, Franz Kafka, Isaac Bashevis Singer, and Henry Miller all looked to Hamsun as an artistic role model and insisted that much of modern literature is indebted to his work.