Nineteenth-century painter Richard Cosway (1742-1821) was a renowned painter of miniature portraits. His career began early, when he was only 20 years old. Cosway would eventually paint members of the British royal family, along with many members of nobility. Cosway is the namesake of the eponymous book bindings, even though he had nothing to do with their creation.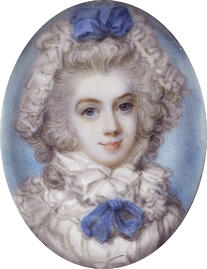 Cosway bindings were so named because their distinguishing characteristic is that they feature miniature portraits, Cosway's specialty. Though some books Cosway titles include Thomas Moore's Irish Melodies, Life of William Shakespeare, and The Water-Babies. Many of these books remain in pristine condition as they were created as art for the sake of collecting, not as books to be read.
Caroline Billin Currie, who worked for J. Harrison Stonehouse at Henry Sotheran booksellers from about 1910 until her death in 1940. Currie's hand paintings were done on ivory and set under glass. They included landscapes and characters, such as a rendering of the Mad Hatter at his tea party for Lewis Carroll's Alice's Adventures in Wonderland. Currie also did 150 fore-edge paintings, detailed scenes on the pages of the book obscured by painted gilt when the book is closed, only visible when the pages are fanned out.

Fore-edge painting of the Theatre, Stratford-upon Avon, by Currie (Image: Folger Library)
Oddly, little is known about Currie, and many of the Cosway bindings done in her style are signed by other artists. These books were all bound by London's Riviere & Son, the elder a self-taught bookbinder whose level of craftsmanship earned him the loyalty of top collectors, including the royal family and aristocracy. Robert Riviere (1808–1882) started out as an unsuccessful book seller in Bath, but made the switch to binder when he relocated to London. Riviere came from an artistic family; two of four brothers were painters and his sister was Anne Bishop, the most widely traveled singer of the era.
Riviere used painted Moroccan leather and meticulous gilt tooling, precious stones, silk endpapers, and woodcut illustrations throughout the text. He exhibited many pieces in the Great Exhibition of 1851, and was chosen to bind 1,000 copies of the Illustrated Catalogue for monarchs and leaders throughout Europe. He was also commissioned to restore the Domesday Book, the oldest public record of England and Wales dating to 1086.
Collectors cherish Cosway bindings not only for their beauty, but also for their interesting history. They are just one example of how books' value extends beyond their content to their status as meaningful and significant objects in their own right.