"A place where there was nothing but land: not a country at all, but the materials out of which countries were made."
A bleak sentiment, yes, but perhaps one that has been the basis for some of the most stark, intimate, and revealing writing in the American literary tradition. Taken from the mind of Jim Burden, the central character in Willa Cather's masterpiece novel, My Antonia (1918), this moment expresses a place where imagination, creativity, and fortitude are not merely boons to intellectual survival: they're essential. But perhaps it makes sense that these aforementioned qualities are also often found in the lives and stories of some of America's most famous authors.
It's not a far cry to believe people assume traits and characteristics of the places they call home, and it certainly wouldn't shock most seasoned readers to see these quirks reflected in authors work—think the frenetic energy of The Beats and how that ties to the pulse of counter-culture San Francisco, or the surreal work of The New York School of poets coupled with the myriad of cultures and influences found in New York City.

Big skies. Relentless sun. Vast expanses of prairie land. Juxtapose these images with crushing realities of living day-to-day in the tough, testing terrain and you just might have the most fertile ground for storytellers and poets. The next time you're road-tripping through Kansas or flying over Nebraska, think about these five writers and how they've helped shape American arts and letters.

Willa Cather (1873-1947)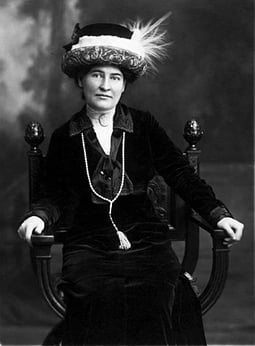 Widely regarded as the foremost champion of Great Plains or pioneer literature, Cather's work is known for its plainspoken depiction of everyday people struggling to make their way in, what was at the time, some of America's harshest land. Cather spent much of her childhood in Nebraska and its neighboring states, honing her chops as a journalist before turning to fiction writing full-time. Her debut collection of short stories, The Troll Garden, was published in 1905, but her big break would come with the publication of the seminal novels O Pioneers! and My Antonia in 1913 and 1918, respectively—both novels cemented her place as the most influential Great Plains storyteller.

Cather was awarded a Pulitzer Prize in 1922 for her novel One of Ours, however, her popularity waned in the latter half of the 1920s with the Dust Bowl and Great Depression as readers and critics felt she failed to confront real-world issues of the day in favor of an idealized past.

Laura Ingalls Wilder (1867-1957)

Wilder is the author of the immensely popular and influential Little House on the Prairie series, of which she penned eight novels between 1932 and 1943. The autobiographical series of children's books captured much of Wilder's life growing up in a family of pioneers and frontiersman who migrated across the Great Plains for much of childhood, including stints in Nebraska, Minnesota, Missouri, and elsewhere. Wilder fell into writing through a columnist and editor position around 1911 with The Missouri Ruralist and would years later put pen to paper with The Little House series as a homage to her late mother and sister and a desire to document the memories of her somewhat nomadic childhood.

Though Wilder did author other books outside of The Little House series, they remain her most popular publications to this day and are available via translations in a number of languages throughout the world.

James Tate (1943-2015)

Born in Kansas City, Missouri, poet James Tate is best known for his surreal, comic, and absurdist poems heavily informed by his childhood and adolescence in the Great Plains. The son of a World War II pilot killed in action just after his birth, Tate showed little interest in academics and poetics as a child and early teen—in fact, he was involved with a number of Kansas City-area gangs and seriously considered a career as a gas station attendant before applying to Kansas State College in the early 1960s. While attending university, Tate became infatuated with poets like William Carlos Williams and Wallace Stevens, and he soon began writing and publishing his own poems. His debut collection, The Lost Pilot, was published in 1967 while he was still in graduate school, and it was met with much critical acclaim.

Tate has since published more than 15 full-length volumes of poetry—not including chapbooks or additional smaller collections—and has been awarded a Pulitzer Prize, National Book Award, National Endowment for the Arts Fellowship, and a Guggenheim Fellowship.

Ted Kooser (1939
—

)


Kooser may have one of the more unlikely climbs to the top of contemporary poetry in the United States. He didn't study or hone his craft in high school or college, and in fact he didn't begin writing poems until he spent a significant amount of time in the corporate world as the vice-president of an insurance company in Nebraska. Nevertheless, Kooser's experiences growing up in Iowa and Nebraska and his search for meaning while in the 9 to 5 world emanate from his poems, which often employ simple, crisp language and relatable, seemingly-mundane images and situations. Kooser is the author of 12 full-length poetry collections, including Delights and Shadows (2004). He was awarded a Pulitzer in 2005 and has also received two NEA fellowships.

Chuck Klosterman (1972
—

)


One could argue essayist and novelist Chuck Klosterman is one of the most prolific documentarians of pop culture in modern America. Born in Minnesota, Klosterman spent his entire childhood, adolescence, and college career in North Dakota, and took his first professional writing job as a reporter with a newspaper based in Fargo. From there, Klosterman parlayed his writing and life experiences in the Great Plains into an editorial position with SPIN, and his writing has been featured in a number of national publications such as GQ, Esquire, The New York Times, Washington Post, and others. Klosterman is also the author of the Great Plains-based novel Downtown Owl (2008), as well as the much acclaimed non-fiction book Sex, Drugs, and Cocoa Puffs (2003), which examined various facets of contemporary American popular culture.

Image source.