World traveler and prolific writer Rudyard Kipling was born in Bombay on December 30, 1865. As a boy, he happily listened to the stories of his Indian attendant and Portuguese nanny. The author's upbringing would often manifest in his works.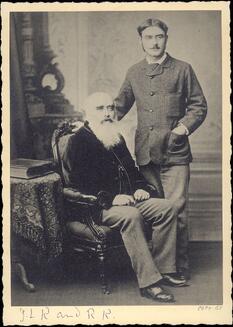 When Kipling reached school age, he and his younger sister Alice, known as Trix, were sent back to England, to a boarding house They were abused, and though they visited their English relatives often, didn't speak of it until their mother collected them in 1877. The next year Kipling entered a military prep academy by the sea, in Devon, while Trix boarded at Southsea.
After Kipling failed to get a scholarship to Oxford in 1882, his father got him a job in Lahore as an assistant newspaper editor at The Civil and Military Gazette. This filled his insatiable writing appetite. Many of these newspaper stories comprised his first book, Plain Tales from the Hills, published in 1888. He also published multiple other short story collections that year.
Kipling relocated to Allahbad and a bigger newspaper, The Pioneer, but was let go the next year. With book royalties and severance pay to launch him anywhere, he thought hard about his next move. He decided to return to England, by way of Southeast Asia, Canada, and the United States, where he briefly met Mark Twain. Kipling sold stories along the way to The Pioneer, and they were published in From Sea to Sea and Other Sketches, Letters of Travel.
By the time Kipling reached London, he was already acclaimed and got right to work on a novel, The Light That Failed, published in 1890 in Lippincott's Monthly Magazine. He also co-authored The Naulahka with American writer Wolcott Balestier. And the next year Life's Handicap, Kipling's short stories of Brits in India, was published. Kipling suffered a nervous breakdown soon after, and went on a South Seas voyage with his family to recover. The trip was cut short, however, when he heard of Balestier's death from typhoid.
Kipling returned and married Balestier's sister Carrie, with whom he had had a lingering romance. They honeymooned in America and Japan, and settled near her family in Vermont, in a small cottage. They had a baby girl, Josephine, at the end of 1892, and it was here that the inspiration struck for the Jungle Books.
Kipling built a bigger home on the Connecticut River and named it Naulakha in honor of his deceased brother-in-law and writing partner. He wrote The Jungle Book and The Second Jungle Book, published in 1894 and 1895, and their family grew with a second daughter, Elsie, in 1986.
After disputes with Carrie's other brother, the Kiplings relocated to Devon, England, where his fame and family continued to grow. Carrie had son John the next year, and Kipling wrote the poems "Recessional" (1897) and "The White Man's Burden" (1899). He was becoming increasingly vocal about his political stance, beginning as an ardent supporter of imperialism. He wrote another round of short stories, this time reaching back to his military school days, in Stalky & Co., published in 1899.
That year, the Kipling's wintered in South Africa for the first time, and this would be the family's holiday tradition for the next decade. It led the author to take the British side in the Second Boer War. He wrote many patriotic poems and did a two-week stint a correspondent for The Friend, the South African newspaper for British troops.
In the new century, Kipling was as popular as ever. In 1902, he published his children's classic Just So Stories for Little Children and novel Kim, which made the Modern Library's list of the 100 best English-language novels of the 20th century. Puck of Pook's Hill was published in 1906. The next year Kipling was awarded the Nobel Prize in Literature in 1907, and the Swedish Academy celebrated three centuries of British literature. Rewards and Fairies was published in 1910.
Kipling's political interest increased further still. He stood up for the Canadian conservatives in their 1911 federal elections, in which the liberals wanted to sever ties with Britain in favor of the US. He was ardently anti-home rule of the Irish and anti-Bolshevic.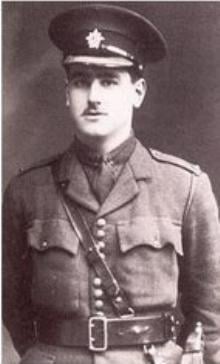 During World War I, Kipling wrote propaganda for the British government. And when his son John, then 18 years old, couldn't get into the British Army due to poor eyesight, Kipling arranged his placement in the Irish Guards. John died two days into battle. Kipling was so grief stricken and filled with guilt, he wrote the poem "My Boy Jack" and worked with the Imperial War Graves Commission, who tended the garden-style grave sites along the western front. He also wrote a thorough history of the Irish Guard, published in two volumes in 1923.
Kipling rooted against America's isolationism regarding world politics, and hoped for an Anglo-Franco-American alliance, and warned of the rise of the Nazis in Germany. Kipling passed away in 1936 at the age of 70. His influence remains strong in the world of literature, earning him a place among legendary authors like Mark Twain and Charles Dickens.
Building a Rudyard Kipling Collection
Rudyard Kipling's diverse literary contributions and status as a legendary author have made him a prime subject for collectors of rare books. Undoubtedly the most famous Kipling collection was that of David Alan Richards, a New York real estate attorney. His Kipling collection, the largest in the world, contained 82% of all first editions by Kipling and was valued at $1.5 million.
Richards discovered Kipling thanks to his parents. He opened a card from them on his 21st birthday and found the words to Kipling's poem "If." At the time, Kipling wasn't favored among academic or collectors, but rather dismissed as a racist and an imperialist. But the tides of criticism have since turned in Kipling's favor, and he's again found a broad audience among rare book collectors.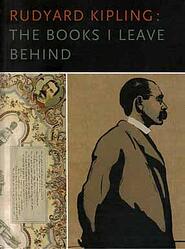 Richards' own interest in collecting Kipling hasn't waned, even though he's donated his collection to Yale University. Even during the five-year donation process, Richards managed to pick up a few exceptional items. One of these was the first American edition of The Second Jungle Book, which has the earliest Kipling dust jacket. It's the only known copy to exist in that condition.
Richards explores the joys and challenges of collecting Kipling in Rudyard Kipling: The Books I Leave Behind (2007), a work that's certainly mandatory reading for an Kipling enthusiast. He also published a bibliography of Kipling's works in 2010, through Oak Knoll Press. It's become an indispensable reference for collectors of Rudyard Kipling, as has Flora V Livingston's bibliography.
Find a few select titles of our current offering below:
St. Andrews: Two Poems

This book, a fundraiser for the Student Welfare Scheme or the University of St. Andrews, contains Kipling's "A Rector's Memory"and Walter de la Mare's "A Memory," representing the first publication of each with sixteen reproductions from pencil drawings and etchings of St. Andrews.

A Very Good+ first edition in close to Near Fine condition, this copy has little ghosting to endpapers and is in a good, lightly torn dust-wrapper with chipped top edge. The American pamphlet printing of "A Rector's Memory" was delayed to coincide with this London publication on May 4, 1926.

Puck of Pook's Hill

Puck of Pook's Hill is a collection of fantasy short stories set in different periods of English history. The stories, which are told to two small children, are narrated by Puck, who is based on the character from William Shakespeare's A Midsummer Night's Dream.

This early American edition is published by Doubleday & Company rather than Doubleday, Page & Company, and bears the dust-jacket price of $2.75. It's in Fine condition in original cloth with gilt decorated spine, dark olive-green publisher's top stain in still Very Good, little chipped dust-jacket.

Abaft the Funnel

Abaft the Funnel is a collection of short stories and one poem published in 1909. The short stories contained within Abaft the Funnel were culled from the pages of the Civil and Military Gazette, the Pioneer and Pioneer Mail, and the Week's News.

This first edition is in Near Fine condition with lightly rubbed extremities. The binding is deep blue with vertical rib cloth and gold stamped author, title, and publisher as required. It's without dust-jacket as issued; the wrapper wasn't introduced until the third issue.

The Gipsy Trail

Kipling's Gypsy poem first appeared in the December 1892 Century Magazine and was not to be collected by Kipling until the 1919 collection Verse, Inclusive Edition.

Bound in flexible boards, this volume is self-wrappered in laid paper of grayish green laid paper dust jacket. The frontispiece is by William Addison Dwiggins. This volume is said to have been one of 1,000 copies printed, but all but 50 or 60 were destroyed due to copyright infringement. It's Fine in equally unblemished dust-jacket with little ghosting to end papers and many leaves still uncut.

Soldier Tales

Soldier Tales includes "With the Main Guard," "Drums of the Fore and Aft," "The Man Who Was," "The Courting of Dinah Shadd," "The Incarnation of Krishna Mulvaney," "The Taking of Lungtungpen," and "The Madness of Private Ortheris." As noted in Kipling's contract with Macmillan, this is an "illustrated volume of stories (already published)" in prior English editions.

Only 5,000 copies of the first edition, published on October 30, 1896, were printed. With deep blue cloth boards and lettered and illustrated on spine and illustrated on front board in gold,this edition has dark bluish green endpapers. All edges are trimmed and gilt, and it's in Near Fine condition with lightly rubbed extremities.

Kipling's Boys' Stories

Nobel Laureate Kipling included the following in Boys' Stories: "Wee Willie Winkie"; "BAA, BAA Black Sheep"; "His Majesty the King"; and "The Drums of the Fore and Aft."

Fine in Near Fine dust-jacket with bright cover label on black decorated, red cloth this volume is Dodge's reprint of the collection of boys' stories originally published in 1888. Despite of most sources quoting a 1899 publication, this title wasn't published until or after 1914, as indicated by the listing of "Betty's Diary" by Dorothy Russell, published in 1914. It's rare to find in dust-jacket. The copyright, misprinted as 1800 on the copyright page, bears the correct 1898/1899 dates on plates.