It was a winter night filled with poetry and jazz - a fateful night in which Sylvia Plath met Ted Hughes. They were both attending a University of Cambridge party held at the Women's Union in Falcon Yard. The party was a celebration of the release of the first issue of the student written and published literary journal, St. Botolph's Review.
In her journal, Plath described the party as "very bohemian, with boys in turtleneck sweaters and girls being blue-eye-lidded or elegant in black." Jazz played loudly in the background while party goers shouted poetry to one another over the din of noise. Even though she'd come to the party with a date, Plath's eyes immediately fell on Ted Hughes, and their attraction was instant.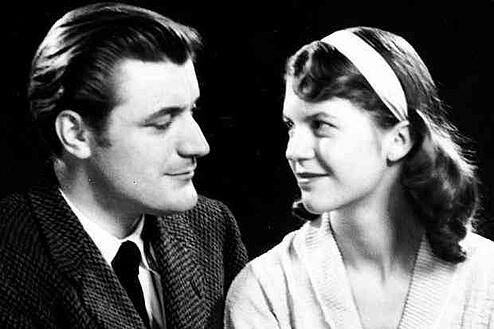 The next day Plath recorded her first impression of Hughes in her diary calling him, "that big, dark, hunky boy, the only one there huge enough for me."
It was February 25, 1956. Sylvia Plath was twenty-three and studying at Cambridge on a Fulbright Fellowship. At that point in her young life, she had already received a scholarship to Smith College in Massachusetts where she had graduated with honors. She'd been a guest editor for Mademoiselle magazine, and been published in the Boston Herald, Harper's Magazine, Atlantic Monthly, and Mademoiselle.
Ted Hughes, a 1954 graduate of Cambridge, was twenty-five. At the time, he was working in London as a script reader for the J. Arthur Rank Film Company. He'd had three poems published in that first issue of St. Botolph's Review, and upon meeting him, Plath began to quote sections of those poems to him, despite having just read them for the first time earlier that day.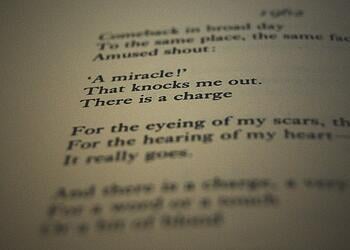 By all accounts, the two were instantly attracted to each other. Their first encounter was saturated with both sexual tension and violence. As fate would have it, the meeting was a foreshadowing of the tumultuous relationship that lay ahead of them; namely, a marriage that would end in separation due to Hughes's infidelity, and shortly thereafter, Plath's suicide.
That night the two went into a room alone together, and Plath writes, "then he kissed me bang smash on the mouth and ripped my hair band off...and my favorite silver earrings...And when he kissed my neck I bit him long and hard on the cheek, and when we came out of the room, blood was running down his face."
Although Sylvia Plath went home with another man that night, Plath and Hughes married on June 16, 1956, a mere four months after their first meeting.