Common folk wisdom suggests that most people move further right on the political spectrum as they age. And while many writers buck that trend, novelist Kingsley Amis was not one of them. Over the course of only a few decades, he adopted staunchly conservative viewpoints ranging from virulent anti-communism to disparagement of public funding for the arts. Interestingly, at the very height of this political shift, Amis was given the reins of one of England's most beloved characters: James Bond.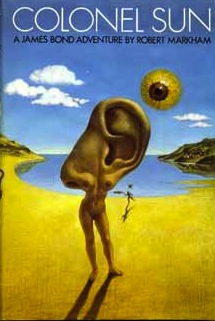 In 1968, four years after the death of Bond creator Ian Fleming, Kingsley Amis published Colonel Sun under the pseudonym Robert Markham. It was the first continuation of the Bond mythology since Fleming's demise. The novel's release was almost certainly motivated in large part by Gildrose Publication's desire to retain the rights to the beloved character, but it's hard to say that Amis wasn't qualified for the job. Not only was he already a hugely acclaimed novelist, poet, and critic (having earned considerable praise for the unique blend of realism and humor that characterized such works as Lucky Jim (1954) and Take a Girl Like You (1960)), but he was a close friend of Bond's dearly departed creator. Moreover, Amis had already published writing pertaining to Bond, beginning with The Book of Bond in 1965, which presented a satirical guide to living like the famed MI6 standby. In 1967, he published The James Bond Dossier, a critical companion to the Bond series which argued earnestly that Fleming's works provided a level of literary depth and worthiness of critical attention befitting of accepted literary classics. A novice, in Fleming's world, Amis was not.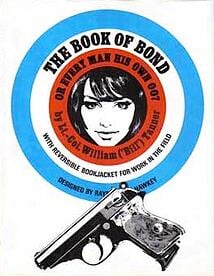 In light of Amis' literary chops, not to mention his deep critical understanding of Bond as a character, Colonel Sun had all the makings of a fascinating and accomplished project. Given the glee with which American authors have engaged with the nation's picaresque mythology (on display in works like Robert Coover's The Public Burning (1977) and, more recently, Colson Whitehead's John Henry Days (2001), which deal with the much mythologized Rosenberg trial and John Henry, respectively), the prospect of a writer with Amis' prowess engaging with a figure who had already left an indelible mark on the British consciousness could have yielded a masterpiece. High hopes seemed justified. Unfortunately, the novel failed to meet expectations. It was given a lukewarm critical reaction and subsequently ignored by producers, screenwriters, and other evaluators of the Bond canon.
While we're not left with a timeless classic, we are left with a fascinating relic. The novel itself, in focusing on M's kidnapping and Bond's subsequent quest for revenge, can be seen, with its angrier incarnation of Bond, as a move toward catharsis—a public airing-out of feelings that must have accompanied Fleming's death and the uncertainty of Bond's future. That this catharsis is ultimately stunted may make, as Marcus Bradbury notes, for "neither vintage Fleming nor vintage Amis," but it does make for an interesting artifact of collective grief.
On Amis' side, the novel might represent something of a career turning point. That this once revolutionary personality approached a figure so symbolic of love for Queen and country without the slightest attempt to upend expectations might better mark Amis' turn away from the left than his 1967 essay "Why Lucky Jim Turned Right." Kingsley Amis never published another Bond novel. Perhaps by expecting anyone to fill Ian Fleming's shoes, the reading public made failure a necessity, but we can remain fascinated by the faintness of the footprints that Amis left.