If you're interested in twentieth-century poetry, Richard Wilbur should be on your reading list. Born in New York City, Wilbur became the second United States Poet Laureate in 1987. His poems draw on a number of life experiences—including his time of service during World War II. When he took his post as Poet Laureate, Librarian of Congress Daniel J. Boorstin described him as "a poet for all of us, whose elegant words brim with wit and paradox."

Wilbur has published numerous poetry and prose collections as well as books for children. He is also a well-respected translator. What follows should give you a taste for the poet. Hopefully this sample of his verse will leave you wanting more…enough so that you'll run to your nearest library or book store to pick up one of Wilbur's collections.
The Beautiful Changes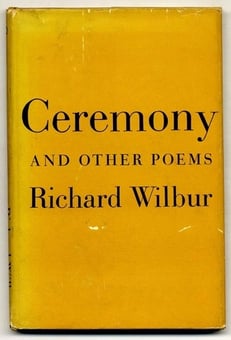 One wading a Fall meadow finds on all sides
The Queen Anne's Lace lying like lilies
On water; it glides
So from the walker, it turns
Dry grass to a lake, as the slightest shade of you
Valleys my mind in fabulous blue Lucernes. Read More >>
Looking into History
I
Five soldiers fixed by Mathew Brady's eye
Stand in a land subdued beyond belief.
Belief might lend them life again. I try
Like orphaned Hamlet working up his grief
To see my spellbound fathers in these men
Who, breathless in their amber atmosphere,
Show but the postures men affected then
And the hermit faces of a finished year. Read more >>
Still, Citizen Sparrow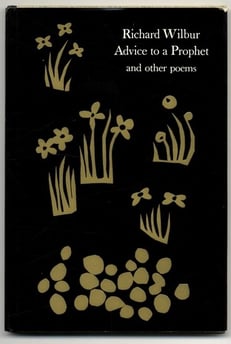 Still, citizen sparrow, this vulture which you call
Unnatural, let him but lumber again to air
Over the rotten office, let him bear
The carrion ballast up, and at the tall
Tip of the sky lie cruising. Then you'll see
That no more beautiful bird is in heaven's height,
No wider more placid wings, no watchfuller flight; Read more >>
Year's End
Now winter downs the dying of the year,
And night is all a settlement of snow;
From the soft street the rooms of houses show
A gathered light, a shapen atmosphere,
Like frozen-over lakes whose ice is thin
And still allows some stirring down within.
I've known the wind by water banks to shake
The late leaves down, which frozen where they fell
And held in ice as dancers in a spell
Fluttered all winter long into a lake;
Graved on the dark in gestures of descent,
They seemed their own most perfect monument. Read more >>
Source: poetryfoundation.org