Reginald Skelton made the world a little bigger for the people of his time. During a period when not much was known about Antarctica, he joined an expedition that opened doors for further explorations and scientific discovery. His work and photography gave the public a glimpse of an uninhabited continent.
The Royal Navy
Skelton was born on June 3rd, 1872 in Long Sutton, Lincolnshire. At the age of 15, he became a member of the Royal Navy. He attended the Royal Naval Engineering College in Devonport before serving on the HMS Centurion for three years in China. In 1901, he was one of the engineers chosen for work on the Discovery, a ship that would eventually head to Antarctica with Skelton on board.

The Discovery was the last ship to be built of its kind in England, and Skelton's work left a lasting impression on Robert Falcon Scott, leader of the Discovery Expedition that would leave for Antarctica. He requested that Skelton join his team as the chief engineer.
The Discovery Expedition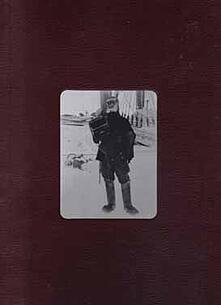 The British National Antarctic Expedition set sail in 1901. It had been 60 years since the last voyage toward the 7th continent, and the team was hopeful to get a better understanding of Antarctica's geography while also conducting scientific research on the land's weather, wildlife, geology, and magnetism.
Along with acting as the chief engineer, Skelton also became the expedition photographer. The images he was able to take back home, along with the journals he kept during these three years, would give the curious world an in-depth look into an unknown land.
Skelton also left his mark behind in Antarctica. Four landmarks were named after him: a glacier, a lévé, an icefall, and an inlet.
The Discovery Expedition was the beginning of the Heroic Age of Antarctic Exploration, during which there were 17 expeditions sent from 10 different countries.
These explorers faced dangerous conditions. From 1900 to 1917, nineteen explorers died during trips to Antarctica. The ones who returned were heralded as heroes, unparalleled in their bravery and accomplishments. They were not only seen as scientists or sailors, their photographs and writings earned them the title of artist.
Returning Home
The Discovery returned to England in 1904 after three successful years with no major setbacks. Skelton was reunited with his fiancée, Sybil Devenish-Meares. They married and would later have three children.
Skelton hoped to return to Antarctica one day, but this dream was never realized. He continued to work as an engineer in the Royal Navy, and he was awarded the Distinguished Service Order (DSO) in 1916. He was knighted in 1931 and retired from service in 1932.
Skelton passed away on September 5th, 1956, but his children kept his legacy alive. His son followed his footsteps in the Royal Navy, and his granddaughter, Judy Skelton, became devoted to studying his work, his journals, and his photographs with the support of the Scott Polar Research Institute.