Despite James Boswell's great efforts, he is really only known for two things: his outstanding biography of Samuel Johnson, and that he contracted various venereal diseases at least 17 times.
As a boy, Boswell had been sickly, anxious, and easily depressed. Matters were not helped when he was often sent away to school as a child. But he loved learning, was friendly and well-liked, and soon became fond of travel.
A Scot who was not fond of the Scottish, Boswell began at the University of Glasgow when he was nineteen years old. That year he decided to convert to Catholicism and become a monk, which prompted his father to order him home. Instead, Boswell ran away from the university and lived off his inheritance in London until his father found him and brought him to school.
After university, Boswell went on to study law at Utrecht in the Netherlands, and then traveled around Europe for a couple of years. He met philosopher and writer Jean-Jacques Rousseau, Voltaire,and Corsican independence leader Pasquale Paoli, of whom he was an ardent supporter.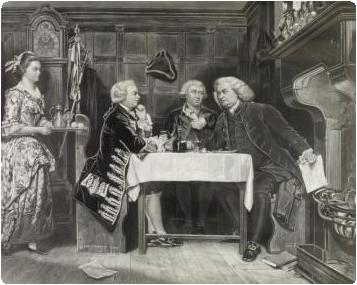 "The Mitre Tavern" (1880):
Samuel Johnson (far right) with James Boswell (center) and author Oliver Goldsmith (Credit: Huntington Library)
He returned to practice law in Glasgow, a town he despised, but stayed in for the next 17 years. He was only moderately successful. Boswell had first met Samuel Johnson in May 16, 1763, and by this time the two were fast friends. He often visited London and Johnson on vacations, and often corresponded with friends, a favorite topic being his nights with prostitutes.
Boswell published An Account of Corsica, The Journal of a Tour to That Island; and Memoirs of Pascal Paoli in 1768 and that finally led him to fame.
After having two children out of wedlock (both died in infancy), Boswell married his first cousin Margaret Montgomerie in 1769 and they would have seven children, two of whom also died as babies. In 1773, Boswell and Johnson toured the Scottish islands of Hebrides, and Boswell continued to write, publishing articles regularly in London Magazine from 1777 to 1783.
Yet Boswell was unsatisfied with his career and lacked of notability, with no luck getting a judgeship or into Parliament. He began drinking heavily to mask his depression and anxiety and his alcoholism only worsened his mental state. He was a regular visitor to the brothels again, even as his wife was ill with tuberculosis.
Samuel Johnson died at the end of 1784, and in the next year Boswell wrote what would become the beginning of his biography of his friend, The Journal of a Tour to the Hebrides, with Samuel Johnson, LL.D. It was an instant best-seller.
Boswell and family relocated to London in 1786, though his wife returned to the family land in Scotland as she grew sicker. He had been made judge and was not allowed to be at her side when she passed.
The Life of Samuel Johnson, LL.D. was published in 1791, and was ingredibly well received. Boswell eschewed the dry, reverent tone so common to biographies of the time, choosing instead a more conversational tone. but Boswell never truly felt successful. He had good relationships with his children and a few close friends, but his intoxicated gregariousness always proved a barrier to the creative class he wanted to be a part of.
Boswell's papers were thought to have been destroyed upon his death in 1795, but they were found in the early 20th century and now reside at Yale University.